Review Overview
This stuff should be relegated to the cleaning supplies closet and used solely to remove soap scum from your shower.
Taka Vodka Review – Initial Thoughts:
In an effort to keep my vodka reviews unbiased, I decided to take a look at Taaka vodka. We all need to experience a few rainy days in order to fully appreciate the sunny ones. Taaka is definitely a bottom shelf vodka. However, when making large punches or coolers of vodka cocktails, sometimes you'll want to just get the cheap stuff.
I took some time off and actually conducted this review on a recent camping trip with some friends. I wasn't exactly planning on drinking Taaka that night, but it was cheap and I was planning on mixing it with other non-alcoholic liquids. There's not too much else to say about this relatively unknown vodka, so let's jump right in on how it tasted!
Taaka Vodka Review -The Shot:
My goal is to record myself take a shot of every vodka brand that I review. Why? Well, nothing describes the pain/joy of taking a shot then looking at a persons face while he does it! So before I describe the shot, go ahead and press play to observe my immediate reaction.
As soon as the liquid hit my throat, I knew was in trouble. As the liquid moved over my tongue, I could feel it singe each and every one of my taste buds. I swallowed it pretty quick so I thought I was ok, however this vodka seems to burn even more AFTER the shot.
I understand this is cheap vodka, but Taaka took that to a new level. There's really not much more I need to say about this one. I know I laughed it off in the video, but my mouth really was on fire. If you have the choice between taking a shot of Taaka and taking a shot of rubbing alcohol, I would probably take a second to think about it.
The Mixed Drink: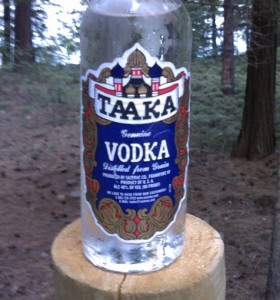 This turned out to be much better than taking the shot. Obviously, because I was mixing it with flavors, but I managed to survive with this method. My mixer of choice was Jones Soda, specifically the strawberry lime flavor. Now I don't know whether it was the mixing process, or the fact that Jones Soda is delicious, but making a vodka mixed drinks with these two tasted alright. I'm more inclined to believe the latter.
If you see this in the store and are looking for a cheap mixer, I suppose this is serviceable in that department. However, I feel like there are some that are just a tad cheaper. At this point, just go with whatever is cheaper, because you're not exactly upgrading by choosing Taaka.
Taaka Vodka – Conclusion:
Maybe there are some people out there who would enjoy this. I mean, who's to say that enjoying vodka cocktails that always leave a bitter aftertaste in your mouth is so bad? Eh, the bottom line is, if you've found yourself looking at this bottle, you're obviously looking to drink for cheap. I did this review to show that I'm willing to help you on your journey of finding that really good no-name vodka brand that tastes awesome. I'm also here to tell you that Taaka is not that vodka.
Taaka Facts

Average Price:$7.99 per 750 ml
Distilled From: Grain

Percent Alcohol: 40%

Produced By: Sazerac

Website: sazerac.com/