If you like sweet, obscenely sugary shots, then this vodka is for you. I'll leave this one as topper for my vanilla vodka style mixers.
Smirnoff Marshmallow Vodka Review – Initial Impressions:
Smirnoff Fluffed Marshmallow Vodka is a brand new flavored vodka created for those looking a little sweetness in their alcohol. Finding a good flavored vodka for your vodka cocktails and vodka mixed drinks is important, especially considering a lot can go wrong when you start adding a sugary essence to your alcohol.
Marshmallow Vodka is an interesting idea, and one that I can't completely disagree with. I mean, after a while, everything begins to sound good with a little alcohol in it! There's not much history to this specific vodka brand, as this flavor was created specifically for the consumers to enjoy. It also makes for some entertaining and sexy marketing (you'll have to check out the commercial!).
So no point in delaying, let's get on with this Marshmallow Vodka Review!
Marshmallow Vodka Review -The Shot:
My goal is to record myself take a shot of every vodka brand that I review. Why? Well, nothing describes the pain/joy of taking a shot more than looking at a persons face while he does it! So before I describe the shot, go ahead and press play to observe my immediate reaction.
Well, if you watched the video, you'll see that it wasn't exactly a pleasant experience. The good news: it actually did taste a little like marshmallows. I've heard it said before that the marshmallows tasted a little burnt and I'll agree. After the shot, you can also still taste the sweetness of marshmallows on your tongue.
The bad news: the combination of marshmallows with the bitter after taste of the vodka totally killed what should have been a nice, sweet finish. Instead, I got a shot that frankly didn't taste very good. It wasn't horrible, but it was far from a marshmallow treat. I'm not sure if it was a problem with the execution, or if vodka's just aren't meant to be made flavored with marshmallows.
If there was any sanctity in this, it was that the burn was really mild. Of course at only 30% alcohol, this shouldn't come as a surprise. Overall, I didn't enjoy this vodka as a shooter.
Shooting Grade: C
Marshmallow Vodka Review -The Mixed Drink: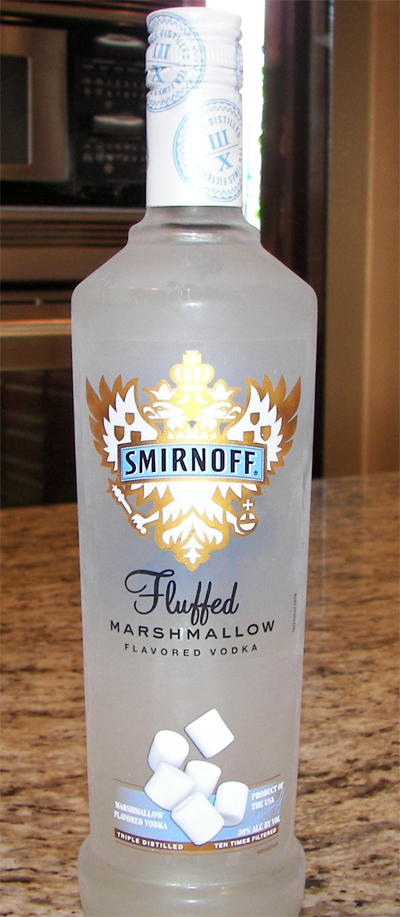 For this Marshmallow Vodka Review, I initially chose to make a Vodka Cran. I like to keep my Vodka Mixed Drinks and Vodka Cocktails simple when doing reviews. However, from just thinking about that, you should realize that probably wouldn't be a good idea. You're right. One sip of this vodka cocktail and I realized this wasn't going to work.
Then I decided to get a little more into the holidays. I decided to make a nice cup of hot chocolate and would use this vodka as my marshmallows. I used real cocoa powder (Hershey's), and made 1 cup of hot chocolate. I then added 1.5 ounces of Smirnoff Fluffed Marshmallow Vodka to my glass, gave it a stir, and dove in.
The result was surprisingly well. It tasted just as good as adding any Bailey's liqueur to my cocktail and I was finally able to enjoy this vodka. You could get the smell and taste that marshmallows were in the hot chocolate. Unfortunately, I like to grade vodkas on their versatility in vodka mixed drinks. Limiting this vodka to only hot chocolate really hampers it's use in everyday cocktails. I'll weigh on the side of optimistic, in that there are other good uses for it that I just haven't found.
*Update*
My initial rating was a B- but after trying it a second time, I'm going to increase my score. Treating this fluffed marshmallow vodka as more of a vanilla-style vodka, you can make some pretty good cocktails using it with coke or even orange juice to make a creamsicle vodka drink. In any case, I will up my initial mixed drink grade.
Mixed Drink Grade: B+
Marshmallow Vodka Review – Conclusion:
Fluffed Marshmallow Vodka is definitely an interesting flavor to create. It's a little hard to use in your vodka cocktails and vodka mixed drinks, but I feel that it does have a little potential. If you are looking for something sweet and easy to shoot, I would pass over this one as the bitter and unpleasant taste is a little too much to over come.
If you're bored and want to try it for yourself, you aren't losing much as it's pretty inexpensive.
*Update*
I initially said to pass over this one, but I will concede that this vodka is worth a shot. Using this similarly to a vanilla flavored vodka, I'm sure you could all find great mixers to use with this flavor of Smirnoff.
Final Grade: B-

Marshmallow Vodka Facts
Average Price: $10.99 per 750 ml
Distilled From: Grain, Triple Distilled, Ten Times Filtered
Percent Alcohol: 30%
Produced By: Smirnoff CO.
Website: smirnoff.com