Best suited in a glass with a mixer, this vodka is best suited for laid back gatherings and house party vibes.
Thug Life Vodka Review – Initial Impressions:
When you hear the words "Thug Life", there's a lot of mixed emotions that arise. Some of you may think about it's original source and thoughts of Tupac Shakur will come to mind. Others will hear it and take it for face value; thoughts of tattooed thugs throwing up gang signs and causing trouble in society. And those with a sense of humor will think of it facetiously, thinking of Danny McBride from Pineapple Express or even the hilarious pug life memes.
I didn't choose the Thug Life… The Thug Life chose me. -Tupac Shakur
So where should our thoughts go for Thug Life Vodka? Well, these guys want to bring you back to its original meaning. Focusing on sponsorships that bring teens and troubled young adults off the streets and into gyms (MMA), Thug Life Vodka understands that the Thug Life isn't something you throw around to be cool or trendy. It's a generational lifestyle where people are out there doing what they can to come up in a cold world.
Along with their message, they have also brought along a high quality spirit to market. Made from Canadian winter wheat and distilled six times, Thug Life Vodka wants you to think of them as a high quality, any occasion vodka that goes down light and smooth. Using the purest water sourced from the Canadian Rockies, they aim to produce a product that's not going to leave you wrecked the next morning from poor quality ingredients. This all sounds well and good, but at the end of the day, the product needs to stand on it's own. Let's dive into the shot and see how it tastes.
Thug Life Vodka Review -The Shot:
As I smell the vodka, I pick up mild notes of vanilla. It's very muted on my first pass, with only faint signs pointing the wheat grain source. No peppery spices. No citrus either. It's a very neutral vodka. Unfortunately, the lack of sweetness may scare off some of those who might be reminded of cheaper vodkas they may have had in their past.
As I take the shot, I'm instantly hit with the heat. Almost a little smokey. I can taste the natural minerals that are undoubtedly from the Canadian Rockies water source. It burned a little more on the way down than I was expecting, but left a clean, crisp finish on the tongue. Not too bad.
Thug Life Vodka Review -The Mixed Drink:
I grabbed some orange juice out of my fridge and made myself a nice screwdriver. It's a little late in the day, but hey, why not. The strong neutral smells of the vodka broke through, but didn't really add any additional notes to the vodka. This isn't necessarily a bad thing. Vodka is meant to be, by its very definition, flavorless, odorless and tasteless. In that regard, Thug Life mixes very well and I would recommend using it in this regard.
Thug Life Vodka Review -Final Thoughts: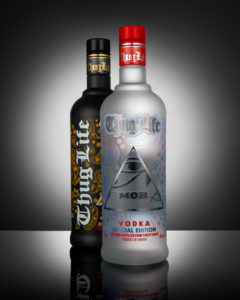 At the time of this review, Thug Life Vodka is only available is only available in Florida, with plans to be accessible nationwide by the end of 2018. I didn't mention the bottle earlier, but it definitely has a unique look to it. This leads me to my last thought. In my initial impressions, I made 3 examples of what you think of when "Thug Life" comes to mind. While they are touting example 1 being their message, I can't help but think of example 2 with their bottle.
The marketing looks to capitalize on those individuals trying to live the thug life (either real or fake), as opposed to those who already live it (and not by choice). Does this make sense? Maybe I'm over thinking it, but it feels like this vodka is caught between two identities: high quality vodka that people want to buy; and niche, targeted marketing that is looking to capitalize on a trendy pop culture phrase. But maybe that's point. Maybe it can do both? Not sure. It's definitely a conversation starter. I'm leaning more towards novelty at this point, but that shouldn't stop you from picking up a bottle for yourself and giving it a try.
Thug Life Vodka Facts
Average Price: 20$ per 750ml
Distilled From: Grain (Canadian wheat), 6x
Percent Alcohol: 40%
Produced By: Thug Life Vodka, Miami, FL
Website: thuglifevodka.com