Anestasia Vodka Review
Sweet notes of vanilla and white oak, made with naturally mineral bare water from Bend Oregon, AnestasiA Vodka is a must try.
AnestasiA Vodka Review – Initial Impressions:
I think it's fair to say that we eat with our eyes first. There is a psychological predisposition that we will enjoy a dish based on how it looks. When I look at AnestasiA Vodka's bottle, all I can think of is how good this is going to taste. The bottle (from the mind of Karim Rashid) is stunning and could easily be a work of art. I can tell you right now that I'll probably keep the bottle a lot longer than the vodka inside. Is that fair? I don't know. If two people prepare you the same dish, would you not give the chef who spent more time on the presentation a slight edge?
AnestasiA Vodka is an American product, hailing from Bend, Oregon. What separates it from other vodka's is it's water source. Being located in the American Northwest, water from the Cascade Mountains is nearly bare of calcium and magnesium as well as other hard mineral salts. In other words, naturally soft water. The recipe itself is a family heirloom, being passed down generation by generation. A combination of Ukrainian lineage and American-made pride has pushed owner Yuliya Mamontova-Calian to produce the vodka you see here.
AnestasiA Vodka Review -The Shot: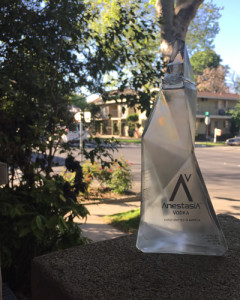 AnestasiA Vodka is very light to the nose. I pick up notes of vanilla, white oak, and mild citrus. Not very peppery in my opinion. I actually find it very mild in general and that gets me excited about the shot. I let the vodka wash over my tongue and immediately feel a warm and buttery sensation. It's smooth. Like, very smooth. It tastes like the sweet vanilla that I had initially smelled, but not overly so.
I have tasted a lot of vodka over the years, and I don't think I've tasted one that I could legitimately describe as being buttery. It's almost like a good chardonnay. I can only imagine this is from the wonderfully soft Oregon water. AnestasiA Vodka is definitely made to be enjoyed neat, and I am legitimately impressed with their product.
AnestasiA Vodka Review -The Mixed Drink:
This vodka is almost too good to mix with anything. However, one thing comes to mind with this vodka: Screwdriver. When I'm enjoying my favorite meal of the day, brunch, I don't want a sudden jolt of bitterness in my Screwdrivers. So I made a 50/50 Screwdriver and took a sip. My eyes widened.
It's like AnestasiA Vodka gave the OJ an even velvetier texture. It was delicious. No bitter aftertaste. No cringing. Nothing. Just soft, sweet enjoyment.
AnestasiA Vodka Review -Final Thoughts:
Why are you still reading? Haven't I convinced you to try this vodka yet? Alright, so it comes in a little steep at $39 per 750ml bottle. At that price you could be showing off to your friends by showing up with a bottle of Grey Goose or Belvedere. But you know what's even more impressive? Showing up with a quality product that they may not have heard of. Once they see the bottle, they'll immediately be intrigued.
Enjoy!
Anestasia Vodka Facts
Average Price: $39 per 750 mL
Distilled From: Corn, 5x | Quintuple Quartz Crystal Filtration
Percent Alcohol: 40%
Produced By: Bend Spirits
Website: http://anestasiavodka.com/