Balls Vodka is good and affordable enough to qualify as an economy vodka. I would probably grab this over Skyy as the quality seems equal, but Balls is just way more fun to say.
Balls Vodka Review – Initial Impressions:
"Damn bro, you really can handle some balls in your mouth!"
"Ladies… Can I fill your glasses with some Balls?"
"Man, I really feel like shit from all those Ball shots last night…"
"Wow Cindy, you really are a Ball guzzler!"
What? Did you think I was talking about male genitalia? Nope, that was just some example phrases you might here when you buy a bottle of Balls Vodka for your next house party. The team over at Balls Vodka realized that in order to make it in the vodka world, you need to be able to market yourself in a way that stands out among the rest. How did they do that? By naming their vodka Balls.
Balls is an American Vodka, bottled in New York that is currently available in NY, NJ, PA, MA, and RI. Makes sense that a New Yawkah would be the one cheeky and audacious enough to finally bring a vodka with a name like this to the marketplace. I kind of like it though. Smirnoff is a cheap affordable vodka that everyone knows and elicits no emotions. If you come to a party and start pouring shots of Balls, you'll definitely open the room to some great one liners and be the life of the party.
You need more than a good name though, so let's take a shot and see how it tastes.
Balls Vodka Review -The Shot: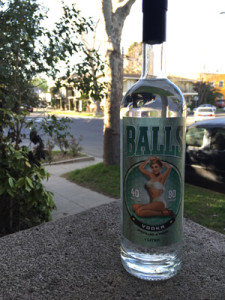 As I smell the vodka, I pick up mildly sweet tones, cedar, and an astringent finish. I didn't pick it up in the nose, but as I take the shot I get almost a peppery spice on my tongue. The shot goes down smooth enough. I wouldn't say it's the smoothest shot I've ever taken, but it's far from the worst. Pretty much right in the middle, with upper middle aspirations.
I'm going to put Balls in the Skyy Vodka range with this shot. Maybe even close to Absolut. Not as smooth as Ketel One but definitely better than a lot of the lesser tier vodkas you would come across at the store.
Balls Vodka Review -The Mixed Drink:
I decided to make something I'm sure the people over at Balls Vodka intended people to make: Vodka Redbull. I pour about a 60:40 ratio of Redbull to Vodka and take solid sip. Balls gets the job done. The slight peppery taste I was getting with the shot actually blends well with the Redbull. I think this may have something to do with the carbonation and tart flavors in the energy drink.
Either way, I'll take it. Balls Vodka got the job done without me wincing at all which is a win in the vodka world. Solid mixer that is tons of fun to say. I mean, who wouldn't want to add Balls to their favorite beverage?
Balls Vodka Review -Final Thoughts:
At this point I think we know where Balls fits into the vodka market. It's competitively priced and comes with a cleverly audacious name that is sure to be a conversation starter wherever you go. It's not top shelf, but I don't think it's trying to be. I think it's just trying to be a solid vodka that fits in with people who like to have a good time.
So when you're looking for a vodka to bring to a party but don't want to spend a lot, why not bring Balls Vodka? As a dude, I'd love to shove my balls into some girls faces. If you're a girl, well you got Balls. Big ones. And no one talks shit to the girl with Balls.
Balls Vodka Facts
Average Price: 25$ per 1L
Distilled From: Grain (Corn), 4x
Percent Alcohol: 40%
Produced By: Balls Vodka, Rochester, NY
Website: ballsvodka.com