Review Overview
When it comes to a solid brand of vodka, Sobieski knocks it out of the park. WIth the combination of sweet rye and a clean finish on the tongue, Sobieski should find a place in your cabinet at all times.
Sobieski Vodka Review – Initial Impressions:
Sobieski Vodka is a fairly well known vodka brand that has made a name for itself on the list of bargain vodkas. Sobieski is from Poland (where they insist vodka originated) and is made from golden Dankowski Rye. The water used to make the vodka is crystalline water from Oligocene springs, which contributes to the silky finish of the spirit. It is continuously distilled (similar to Absolut's constant distillation process) and what you are left with is a smooth, clear vodka.
Recently, actor Bruce Willis has been brought on to be the spokesperson for Sobieski. As part of his compensation, he is being rewarded with shares of the company, making him a minority owner. I think it's a great move and the ads are pretty entertaining. Clever and awkwardly funny, but Bruce Willis succeeds in pushing the Sobieski name as a  vodka brand contender.
Let's take a look at this bargain priced vodka and see how it fairs!
Sobieski Vodka Review -The Shot:
Sobieski Vodka has a bit of a sweet, almost honey-like fragrance upon the smell. It's faint, but there's definitely a sweet floral note to the aroma. As I took the shot, I immediately noticed how smooth it was. A lot of vodkas use spring or mountain water from various regions that have faint flavors from the minerals in these deposits. Sobieski vodka was almost completely flavorless with little to no bitterness left on the tongue.
Because the shot was so smooth and clear, I would highly recommend this for shooting or drinking straight on the rocks. Definitely one for the purists, Sobieski is a solid low cost vodka.
Sobieski Vodka Review -The Mixed Drink: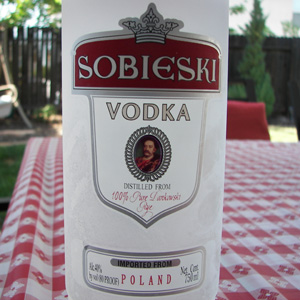 For this Sobieski Vodka Review, I chose to make a Vodka Cran as well as Vodka Redbull
. I like to keep my Vodka Mixed Drinks and Vodka Cocktails simple when doing reviews.
Sobieski does very well in a basic high ball with cranberry juice. It's clean, clear and really gets out of the way of the juice to stand out. Because it is so flavorless, this leaves an opening for a bit more of the alcohol burn to come through the cocktail. Despite this, it still did very well.
I saw just as much benefit with mixing it with the Redbull. Yes, I did use sugar-free redbull (getting close to summer time!) but the result is still the same. Redbull as a much stronger and overpowering flavor and Sobieski does well to mix with the energy drink.
Overall, Sobieski mixed very well with nothing out of the ordinary worth mentioning.
Sobieski Vodka Review -Final Thoughts:
Sobieski Vodka is a classic cheap vodka that I'm sure many of you have heard of. Well, don't let the low price fool you, this vodka could easily charge double for the product they are bringing to you consumers. For those looking for a vodka to have around on the weekdays for after work cocktails or if you're just looking for something cheap to sip on, Sobieski vodka just might be the vodka for you. Cheap, smooth and clear, there's really nothing bad to say about this brand.
Keep up the good work Bruce.
Sobieski Vodka Facts
Average Price: $10 per 750 mL
Distilled From: Dankowski Rye
Percent Alcohol: 40%
Produced By: Destylarnia Sobieski S.A.
Website: vodkasobieski.com