Czar Red Vodka Review – Initial Impressions:
Czar Red Vodka Facts
Average Price: 
$20 per 750 mL
Distilled From: 
Corn (Gluten Free),
6 times, 10 times filtered
Percent Alcohol:
 30%
Produced By: 
Good Spirits Distilling, LLC
Website: 
czarredvodka.com 
Czar Red Vodka is a brand new startup company looking to make its mark in the flavored vodka niche. What separates Czar Red from other similar products is that they are bringing a century old recipe to the table and pushing to market it to the world. Unlike large commercial brands, these are vodka infusions made with rich berry syrups that have been kept a family secret for multiple generations.
I've come across some decent flavored vodka infusions and they can be excellent when done right. On the other hand, when done poorly, they can be very unappealing and carry nasty aftertaste. The real difference with Czar Red Vodka is their use of berry syrups in the infusion. It's an interesting concept and I'm anxious to see how they executed on the final product.
Czar Red Vodka Review -The Shot:
Czar Red has definitely figured something out with this method of vodka infusion. First things first: this berry vodka is a very rich cherry flavor that is full of natural sweetness. I also get a bit of raspberry and pomegranate flavors as well. Some people are put off by natural berry flavors (not the sugary candy taste) and because of this, I would caution you to consider this when purchasing. After consulting with the company, I found that the berry syrup used for the infusion is a unique combination of raspberries, pomegranate, black current, and vanilla. I think the addition of black current is what lead me to believe there was cherry in this vodka (there isn't).  So if these natural berry flavors are something you enjoy, you will definitely love Czar Red.
The shot itself was smooth and slightly thicker than a normal vodka shot. I would actually compare it to a Jager shot only cherry instead of black liqorice. I didn't have any artificial bitter flavors in the aftertaste so I was definitely happy about that. It is also only 30% abv so it's a little lighter than most other vodkas and easier to shoot. Overall I was happy with the shot and could definitely see this being an easy shooter.
Czar Red Vodka Review -The Mixed Drink: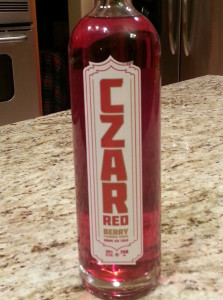 Like most flavored vodkas, there's really no need to get crazy with the mixers for your vodka drinks and cocktails. Sometimes using something so simple as soda water will do the trick to bring out all the naturally sweet flavors in your infused vodka. So, that's what I used for my mixed drink and I couldn't have been happier.
If you're someone who likes to try and hide the taste of your vodka, this simple cocktail has your name all over it. The soda water thins the slightly thick czar red vodka and really brings out its berry flavors. You can barely tell there's even vodka in it! When I mix it, the faint cherry flavor now seems to blend into almost a cranberry flavor and the result is awesome. The rich natural flavors are showcased in what turned out to be an awesome drink. I tried mixing it with coke as well. Although it wasn't as good as the soda water, it is still an excellent berry flavored vodka that shows it can be more versatile than you would think. I can't help but give this vodka a perfect score on just shear drinkability and on how refreshing it is!
Czar Red Vodka Review -Final Thoughts:
Czar Red Vodka has definitely impressed me in this review. I'll be honest, I didn't really know what to expect. A vodka coming from such humble beginnings turned out to be quite a treat. The shot, while a little thicker than normal vodka, turned out to be rich with flavor while leaving no nasty after flavors. However, the real success is in the mixed drink. Mixed with soda water, it tastes like vodka and Crystal Light, only with a more natural finish.
Not bad Czar Red Vodka, not bad. And with that, I finish by saying… Sto Lat!
Review Overview
Deliciously dangers flavored vodka that goes down smooth with minimal sugary aftertaste.