So, I have recently been made aware of this new Mio Drink product. If you are unaware, Mio
is a liquid water enhancer that will proudly take your boring old plain water, and make it taste delicious without adding any calories. They have also released a series of ads featuring animated animals using Mio in their everyday lives. I actually like the one with the Cheetah complaining about the Gazelle taking Mio Energy to escape his clutches.
But what about the actually product? Too good to be true? Well, actually it's not. While some Mio Drink flavors are better than others (personally I like the Berry Pomegranate the best), overall it really is a great way to hydrate yourself or help cut out sugary juices and sodas from your diet. This is great because summer time is here, and you don't want to ruin all those hours in the gym using sugar filled mixers for your vodka cocktails!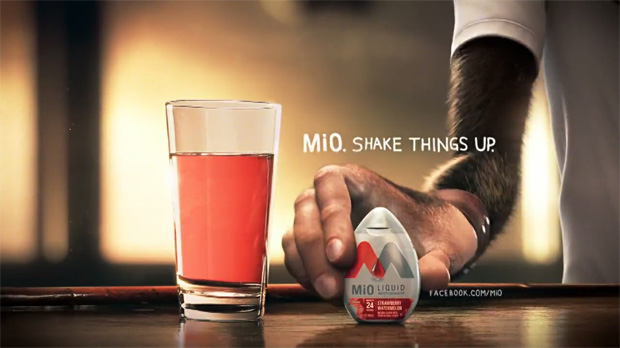 But this is a vodka blog! Why do we care about Mio? Well, here at VodkaOnly, I'm always looking for new and innovative ways to help you enjoy your vodka drinks. So what I did was try to make some vodka mio drinks using only vodka, mio, and water.
I know what you're thinking… why didn't I think of that!? People are already using Crystal Light Calorie Free packets
to make great tasting cocktails, but powder never fully dissolves unless you have a cocktail shaker or a water bottle. The cool thing about Mio Liquid Water Enhancer is that it's already in liquid form. It actually diffuses in the water all by itself if you're too lazy to even stir! The best part is that you can add as much Mio to your vodka mio drink as you want to curb the burn of the alcohol.
The three flavors I tried were strawberry watermelon, green thunder, and berry pomegranate.
Vodka Mio Drink
 Mio Strawberry Watermelon

The strawberry watermelon tasted really good in water and it's one I use every day. I actually tried this straight into a shot of vodka. It turned out good, but STRONG. Most flavored vodkas are only 30% alcohol, mainly so that you can enjoy the flavors a little more. Squeezing some Mio into a straight shot isn't something that is really going to benefit you too much, so I'll probably just stick to using Mio for mixed drinks.
As expected, once I made the Mio cocktail, it tasted really good. I took 1 oz of vodka and poured it into about 4-5 ounces of ice water and strawberry watermelon Mio and could barely taste the alcohol! Nothing is easier than pouring a cup of water, Mio and vodka and these could definitely be dangerous!
Mio Berry Pomegranate

The berry pomegranate is my favorite Mio drink enhancer and it definitely tastes just as good mixed with alcohol. Pretty much the same as the strawberry watermelon, I could barely taste the alcohol. It's really just going to come down to personal preference for this one so you'll just have to find your favorite flavor of Mio to use.
Mio Green Thunder

Alright, Mio green thunder is a little different than the previous two in that this is one of their energy Mio drink enhancers. Each serving of this one has about 60 mg of caffeine in it (or about 2/3 a cup of coffee). So just something to be aware of when mixing alcohol and caffeine.
I will say though, this is probably the best Mio liquid water enhancer to mix with your vodka. Green thunder by itself actually tastes like an energy drink. People already like to make vodka Redbulls or chase with Rockstars so adding some of this stuff really isn't that far of a stretch. Using the same measurements as before, I literally couldn't taste the alcohol! No joke, these WILL sneak up on you. I have yet to pregame with this stuff but I have a feeling that the next time I do, I'm going to be hurtin' the next morning!
Is this something I should try?
YES. Without a doubt, next time you're at the store, pick up some Mio and try making a little cocktail out of it. I didn't try it yet, but I bet this tastes even better if you use soda water instead of just regular tap water.
So hopefully you can try making yourself some of these this summer for a nice lean cocktail that tastes good, is easy to make, and won't add a ton of calories to that beach body you're trying to work on. Check out the video for a demonstration and let me know what you think of this vodka Mio drink!