Island 808 Vodka Review – Initial Impressions:
Island 808 Vodka is a relatively new brand of vodka and it is trying to find it's way into your vodka cocktails and vodka mixed drinks as quickly as possible. Founded in 2009, Island 808 has decided to take a different approach in it's unique brand of vodka: Island 808 vodka is distilled from pineapples! Unlike your typical grain vodka, Island 808 decided to really embody the Hawaiian Islands by distilling and producing their vodka from pineapples.
I know it sounds crazy, but they describe the finished product as clean, crisp and enjoyable vodka that should be tried by all. If you've ever been to Hawaii, you'll remember how clear the water was, how clean the air felt on your face, and how much fun you probably had. The same description is being touted in vodka form and that's what I'm going to review for you.
Island 808 Vodka Facts

Average Price: $12.99 per 750 ml
Distilled From: Pineapple, Triple Distilled
Percent Alcohol: 40%

Produced By: Island 808 Trading CO.

Website: 808island.com/
Island 808 Vodka comes in regular 80 proof as well as 5 other flavors. The other flavors are sure to come, but first, let's take a look at Island 808's classic vodka!
Island 808 Vodka Review -The Shot:
My goal is to record myself take a shot of every vodka brand that I review. Why? Well, nothing describes the pain/joy of taking a shot more than looking at a persons face while he does it! So before I describe the shot, go ahead and press play to observe my immediate reaction.
The shot wasn't too bad. It was sweet to the smell and was crisp and clear going down. The only negative thing I would point out is that it did have a nagging mild burn. What I mean is that although the burn was mild, it did kind of linger on the back of my tongue for a bit. This is common with most vodkas, but just pointing it out so you know what to expect.
Overall the shot was what I expected for a vodka in it's price range. I would put it higher than that Smirnoff, Skyy, and maybe Absolut as well, but that probably no higher. That said, those are still some decent name brands that people buy all the time. Maybe picking up some Island 808 for shooting isn't such a bad idea.
Shooting Grade: B-

Island 808 Vodka Review -The Mixed Drink: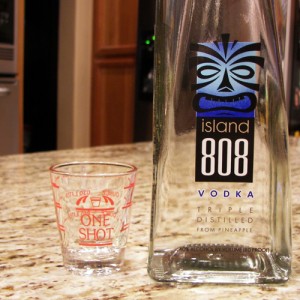 For this Island 808 Vodka Review, I chose to make a Vodka Cran. I like to keep my Vodka Mixed Drinks and Vodka Cocktails simple when doing reviews.
After one sip of this Vodka Cocktail, I immediately was surprised. Although the vodka by itself doesn't taste like pineapples, it is still very sweet smelling. After mixing it with the Cranberry Juice, what I got was a very enjoyable Cape Cod. The vodka blended very well with the juice and provided a very tasty cocktail. I was really impressed with how well the vodka complimented the drink. I detected no bitter flavors from the after taste and the mild burn from before was extinguished. Overall I was very satisfied with the drink.
Mixed Drink Grade: A-
Island 808 Vodka Review – Conclusion:
Island 808 Vodka is definitely an interesting new vodka brand to hit the shelves. Distilled from pineapples, it stands out as something different to try in your vodka endeavors. Vodka Cocktails and Vodka Mixed Drinks are all the same, but the vodka used to make them is what makes them unique.
The sweet accents of Island 808 Vodka are ever apparent in their classic take on 80 proof vodka. I see promise from this company and I can't wait to try their flavored vodkas. If you find yourself browsing the vodka aisle for something other than your typical Smirnoff or Skyy, check out Island 808. You might just find yourself impressed with the vodka made from pineapples.
Final Grade: B