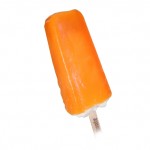 The Creamsicle cocktail gets its name from none other than the orange flavored ice cream Popsicle. If you remember from your childhood, these were cold, delicious treats on those hot summer days. Orange flavored Popsicle on the outside, with cool, creamy vanilla ice cream on the inside. They also made little ice cream cups with this flavor mixture as well. If you've ever been to any children birthday parties, or baby showers, or weddings, you'll have noticed a punch bowl filled with orange soda and scoops of ice cream to keep it cool. It's no secret that these two flavor combinations have become a real fan favorite of the public.
So what's the next step? Turn into an alcoholic beverage of course! Of all the vodka cocktails and vodka mixed drinks out there, this one is definitely one of my favorites. It was even more popular a few years ago, but nothing beats a nice Creamsicle cocktail on a hot day.
Creamsicle Cocktail Recipe:
Pour 1-1.5 ounces of vodka, into a glass or cocktail shaker filled with ice.

If you have a standard shot glass, 1.5 ounces is almost to the rim, so 2/3 full would be about a 2 ounce.

Pour 1 ounce of triple-sec into the glass.

This is a sweet orange liqueur that acts as both a sweetener and an orange flavor with a kick.

Pour about 3-5 ounces of orange juice.

This is the body of your drink, so add however much you think you need.

Pour 1-2 ounce of creamer.

This is to help give the drink that creamy thick texture so help simulate the ice cream.

Stir the cocktail and serve.

Usually it doesn't matter whether you shake or stir, but anytime there's cream or a milk product involved, I prefer stirring to help prevent those dairy bubbles.
Creamsicle Cocktail Ingredients:
Go the extra mile
I like to add a splash of soda water to give a little fizz to it.
Instead of creamer, try adding real vanilla ice cream for a some real ice cream flavor.
Throw your mixture in the blender for a Creamsicle freeze.
If you add only 2 ounces of orange juice, sift the ice and serve in a martini glass.
So that's how you make a Creamsicle cocktail. I hope you take the time to make one of these because they really are delicious and such a treat to have on those hot days.