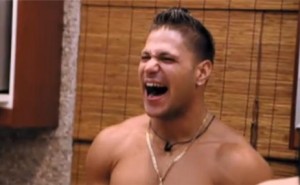 Oh ya, Cabs here! Cyaaabbsss Heeerree!!! And if you want to be technical… Cabs sono qui! That's right, you're here because you love Jersey Shore and want to learn how to make Ron Ron Juice. This recipe goes all the way back to season 1. But I have a feeling that even though Jersey Shore is in Italy, Ronnie still makes Ron Ron Juice when he's in the mood for a serious pre-party (that clip is also very ironic with how things turned out…).
Believe it or not, there are two variations to this drink. In an interview on the David Letterman show, Snooki made a few revisions to this gorilla juice head punch. Not that Snooki is a more important character on the show, but I will say that her method looks like it could mess you up a lot faster. So I will be sure to add in the extra steps for Snooki's version.
Jersey Shore Ron Ron Juice is actually a highly searched vodka cocktail, and because of that, I will break it down for you. Remember, this is more of a punch-type drink, so you make it pitchers at a time.
Ingredients needed to make Ron Ron Juice:
Vodka
watermelon (seedless)
cranberry juice
creamer
cherries (de-pitted)
*blueberries (Snooki)
*Jäger (Snooki)
Blender
How to Make Ron Ron Juice:
Cut up 8 cups, or 1 lb, of seedless watermelon, and put it in a blender.
You can imagine what kind of pain it would be to have seeds in your drink.
Pour in about 12 ounces of cranberry juice.
When working with these kind of drinks, it's not an exact science. Estimate the best you can, don't even make it exact.
1 jar or 10 ounces of cherries (de-pitted).
Cherries have a strong flavor so if you want to start with half a jar, that works too.
Pour about 50% of your 750 ml bottle of vodka into the blender.
Ya, that's right, half the bottle. This is definitely up to you on how much you want to add, but I would say 50% is a good starting point.
*Add 1 1/2 cup of blueberries.
This is the additional fruit that Snooki told Dave on the Letterman Show. Sounds good to me.
*Add 4-6 ounces of Jägermeister.


Ronnie Pouring a Tall Pitcher of Ron Ron Juice!

Wow, now we're getting ready to fist pump. Now wonder Snooki was always tanked. Jäger is a great liqueur because it's strong but also has a sweet black licorice flavor. It will mix well with the all the fruit added. Tread softly.

Add ice and blend until goal consistency is achieved and serve.
Just eyeball the amount of ice till just before your drink looks frozen. You don't want it frozen, but you want it cold and icy.
Go the Extra Mile:
Try adding a a little soda water to give the drink a little fiz
Instead of Jäger, replace with triple sec for an even fruitier flavor
Ronnie may always be off and on with Sam, but at least he knows how to pre-party with with Ron Ron Juice. I definitely recommend making a batch of Ron Ron Juice to try and pre-party with while you're watching Jersey Shore in Italy on Thursday nights. Then, when the show's over, head right on out the door and get your night started!