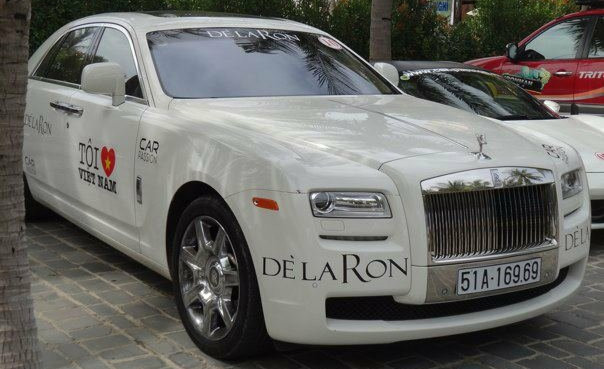 De La Ron Vodka Review – Initial Impressions:
De La Ron Vodka is an extremely new brand of vodka that is just starting to hit the shelves. De La Ron is interesting because they are actually a cosmetics company first. If you visit delaron.com, you'll see their quality line of skin care products and anti aging creams. They also sponsor various rally races and car events, some being really nice. Kinda makes you wonder how they go from this to vodka huh?
Well what they hope will separate their vodka from the competitors is the filtration process. De La Ron Vodka is actually purified with UV (ultraviolet) rays. Once purified, they then run it through activated carbon coconut husks. This unique and innovative process promises to deliver a high quality product to all vodka connoisseurs.
De La Ron Vodka Facts
Average Price: $30 per 750 mL
Distilled From: Grain
Percent Alcohol: 40%
Produced By: Side Pocket Corp
Website: delaronvodka.com/
De La Ron Vodka Review -The Shot: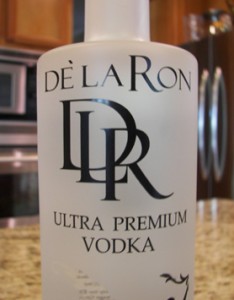 De La Ron vodka is overall pretty smooth. The shot was clean, with subtle sweet notes. The burn was mild and didn't have any bad burning sensation in the nostrils. It wasn't quite flavorless, and it was hard to pin point the exact flavor. It was almost a sweet corn kind of profile. Although it wasn't a bitter after taste on the back of my tongue, you do get the mild corn grain after tones.
Overall the shot was pretty good. I enjoyed the smooth crisp vodka and although there is some mild corn flavors, it's not off putting and gives the vodka real character.
Shot Rating: 8/10
De La Ron Vodka Review -The Mixed Drink:
For this De La Ron Vodka Review, I chose to make a Vodka Cran. I like to keep my Vodka Mixed Drinks and Vodka Cocktails simple when doing reviews.
De La Ron Vodka mixed well with the cranberry juice. The one thing of note is that the mixed drink left an interesting aftertaste. Like I mentioned earlier, there was a sweet corn flavor. They use carbon activated coconut husks and wonder if that is lending any flavors to the vodka. It's kind of hard to describe, but it's not bad.
It's a soft woody after note that just furthers the De La Ron Vodka experience. This may or may not be something you're looking for in a vodka, so just be sure to keep this in mind when purchasing.
Mixed Drink Rating: 8/10
De La Ron Vodka Review -Final Thoughts:
De La Ron Vodka is a unique and interesting premium vodka looking to hit the store shelves. The UV purification was definitely cool to learn about and kind of offered a change from the normal charcoal filtration. It's really hard to pinpoint the exact benefit of this in the actual product, save for the smooth finish at the end.
This vodka had faint sweet grain notes that reminded me a little like corn, which definitely gives this vodka some character. The mixed drink was tasty. Although not completely flavorless, it adds some variability to your vodka cocktails and can offer a new refreshing experience. Overall De La Ron Vodka appears to be a nice vodka to keep around for a little variety in your vodka collection.
Final Rating: 8/10