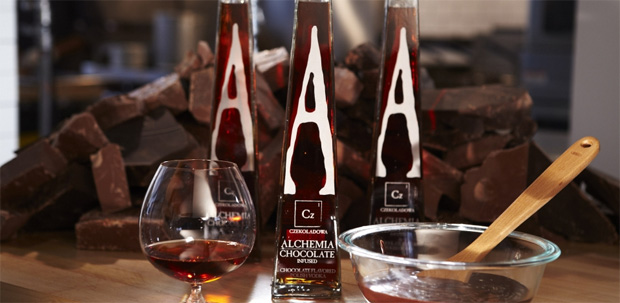 Alchemy Chocolate Vodka Review – Initial Impressions:
Alchemy Chocolate Vodka is a unique and different kind of flavored vodka made from the same people who brought you wodka vodka. If you haven't seem my review of wodka vodka, I suggest you go check it out if you're looking for a good, cheap unflavored vodka. Alchemy is their higher end specialty brand that features unique flavored liqueurs that can offer you a different kind of cocktail experience.
What makes Alchemy Chocolate Vodka unique is that they aren't just adding flavored extracts to their finished product. After the distillation process, they then move the vodka into barrels with dark chocolate for a real vodka infusion.  The result is a full 40% alcohol that tastes like a delicious chocolate treat. These real non artificial flavors should offer a better overall experience to drinker.
Let's take the shot and see if they created a winner!
Alchemy Chocolate Vodka Facts
Average Price: $30 per 750 mL
Distilled From: Rye
Percent Alcohol: 40%
Produced By: Panache Spirits
Website: alchemiainfusions.com
Alchemy Chocolate Vodka Review -The Shot:
Alchemy Chocolate Vodka is definitely a rich and rewarding experience. As you take the shot, your mouth is washed over with rich dark chocolate flavors. The best way to describe it is like you just bit into a chocolate chip cookie (well, one that was made with vodka in it). The shot was strong, being a full 40% alcohol, but not nearly as harsh as I expected it to be. A lot of times with flavored vodkas, you feel a little sick from how sugary or bitter the artificial flavors are. With a chocolate infusion, you are tasting real chocolate in your vodka and the result is amazing.
I've had a few interesting flavored vodkas before, and some were definitely better than others. What separates Alchemy's Chocolate Vodka from the rest is the rich, non bitter flavors in the shot. It tastes good and leaves a nice sweet flavor in your mouth.
Shot Rating: 9/10
Alchemy Chocolate Vodka Review -The Mixed Drink: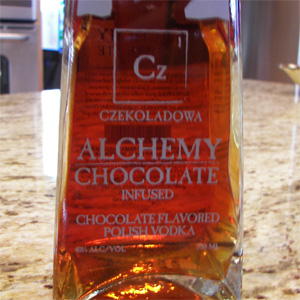 Alchemy Chocolate Vodka is such an interesting and different kind of vodka that it becomes hard to think of good mixers to use for a basic cocktail. Even carbonation in like a vodka soda wouldn't really expand or highlight this chocolate vodka's greatness. But then I got to thinking and thought, "Why not just mix it with milk?" Bingo! A vodka chocolate milk, or a variation of a white russian. The chocolate is so rich that you don't even need to add any extra chocolate flavors (though if you want, adding some kahlua couldn't hurt).
Other than milk, I'd say this is a vodka best used for luscious vodka martinis or just served on the rocks to sip on. Because of it's limited options, I am giving the mixed drink grade a little lower grade than I should for something that tastes this good. Just remember that this grade is due to that, and not because of the awesome flavors.
Mixed Drink Rating: 7/10
Alchemy Chocolate Vodka Review -Final Thoughts:
Alchemy Chocolate Vodka is definitely a unique and delicious vodka that I think everyone should try. It may be limited in it's usability for cocktails, but that shouldn't deter you from trying something a little different. This vodka is a little pricier than most flavored vodkas, so that may lead you to purchasing a cheaper brand. However, chocolate is something that is hard to get right and I believe Alchemy has figured it out. You also have to factor in that this alcohol is 40% while most flavored vodkas are only 30%, so you are getting more for your money.
To summarize, I suggest trying this vodka whenever you can. You won't be let down!
Final Rating: 8/10