Review Overview
Alchemy Wild Cherry Vodka nailed it with their real cherry flavor. This is one for true cherry lovers, best to be enjoyed neat.
Alchemy Wild Cherry Vodka Review – Initial Impressions:
Alchemy Wild Cherry Vodka Vodka is a unique and different kind of flavored vodka made from the same people who brought you wodka vodka. If you haven't seem my review of wodka vodka, I suggest you go check it out if you're looking for a good, cheap unflavored vodka. Alchemy is their higher end specialty brand that features unique flavored liqueurs that can offer you a different kind of cocktail experience. I have discussed already in my Alchemy Chocolate Vodka Review what makes this brand different, but I'll repeat it here. What makes Alchemy unique is that they aren't just adding flavored extracts to their finished product. After the distillation process, they then move the vodka into barrels with wild cherries for a real vodka infusion.  The result is a full 40% alcohol that tastes like delicious wild cherries. These real non artificial flavors should offer a better overall experience to a vodka drinker. Let's take the shot and see if this one is a winner!
Alchemy Wild Cherry Vodka Review -The Shot:
Alchemy Wild Cherry Vodka is definitely something for the cherry lovers. You're not going to get any artificial grenadine-type cherry flavoring here. As I took the shot all I could taste was the rich fruit flavors. Unlike the chocolate vodka, however, the wild cherry vodka doesn't quite go down as smoothly. It is a full 40% alcohol and I think the acidity of the cherries help make you well aware of that. I think the hardest part about this is that I really don't like cherries (crazy I know!). So, I take the fact that I don't like this too much as a sign that they really captured the flavor of real cherries.
Alchemy Chocolate Vodka Review -The Mixed Drink: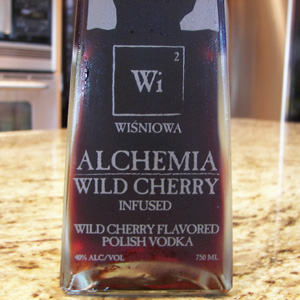 Alchemy Wild Cherry Vodka is an interesting and different kind of vodka, but I'm sure you can already guess what I'll suggest to mix it with… Coke! Who doesn't appreciate a real good Roy Rogers or cherry coke on a hot summer day? After mixing the coke with the wild cherry vodka, I knew this was the correct choice.  It had a real nice authentic cherry flavor that you can't get with vodka, coke, and just grenadine. I also tried it with some club soda and that worked out pretty good too. With the club soda you get a slight bitterness on the finish, but the rich flavors are still just as tasty. Either option works well and I feel like this is a decent flavored vodka to mix with.
Alchemy Wild Cherry Vodka Review -Final Thoughts:
Alchemy Wild Cherry Vodka is a fun and creative take on cherry flavored vodka. A lot of people like the sweet, unique flavor that the fruit holds and it can be used fairly often in many drink recipes. This comes out at a time where Grey Goose is really pushing their Cherry Noir Vodka, so I'll be sure to update this article with a link to that when it happens. For now, I believe this is a solid and very purist attempt at a classic flavor commonly used for all drinks. Cherry is a hard flavor to nail, but you can't get too much closer to the real fruit flavors than by infusing it with the real thing. My only regret is that I wish I like cherry's more!  
Alchemy Wild Cherry Vodka Facts
Average Price: 
$30 per 750 mL
Distilled From:
 Rye
Percent Alcohol:
 40%
Produced By: 
Panache Spirits
Website: alchemiainfusions.com