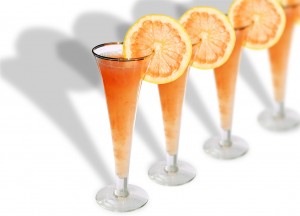 When asked to make a greyhound, usually it must be specified whether to make one with vodka or gin. But as with everything else around here, we only know how to make a greyhound with vodka. Greyhound is a classic highball that is right in the Cape Cod family or even Vodka Collins. This cocktail is for someone who likes vodka and doesn't want a fancy recipe to have some. The premise is simple with this mixed drink: juice with a kick of vodka. Here I will show you how to make a standard greyhound.
Ingredients you will need to make a Greyhound:
Vodka
Grapefruit Juice
ice
highball glass
How to make a Greyhound:
1. Fill your highball glass with ice.
Simple Enough?
2. Pour 1.5 – 2 ounces of vodka into the glass.
1.5 is the standard amount (a shot of vodka) but no harm in being a little heavy handed in your pour 😉
3. Pour about 4 ounces of grapefruit juice into the glass.
If there is still room in the glass, feel free to add a little more juice.
4. Stir well or pour into shaker to mix.
Just make sure the alcohol and juice is thoroughly mixed. At the bar you won't see the mixing (usually too busy to bother). So if you don't the alcohol will settle at the top.
Go the extra mile:
Add a lime wedge on the rim of the cup for presentation bonuses
Salting the rim of your glass turns your Greyhound into a Salty Dog
Flavored vodka can be used to add your own variation of this classic
So now you know how to make a Greyhound. I admit, it's not rocket science. But starting with the classics is a great improve your repertoire of Vodka mixed drinks.