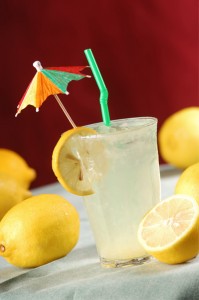 The interesting thing about Vodka Collins is that it actually started out as a gin cocktail, known as the Tom Collins. The recipe first appeared in 1876 in New York bartender Jerry Thomas' The Bartenders Guide, which used gum syrup instead of sugar. The drink started to gain popularity and soon was being ordered other places besides New York. It was then published again in 1891 in the Flowing Bowl: When and What to Drink by William Schmidt, who then modified the recipe to use sugar.
The Vodka Collins is definitely one of the older mixed drinks to still be around, but it's not that hard to see why. It has become an excellent summer beverage and playful twist on the standard glass of lemonade.
Ingredients needed to make a Vodka Collins:
Vodka
lemon juice (or sweet and sour mix)
granular (or powder) sugar
club soda
ice
Cherry
lemon/orange slice
Collins glass
How to make a Vodka Collins:
1. Pour 1.5 – 2 ounces of vodka into a glass.
1.5 is the standard amount (a shot of vodka) but no harm in being a little heavy handed in your pour 😉
2. Fill your glass with 1 ounce of lemon juice .
When it comes to ingredients, the fresher the better. A lot of people, due to convenience, will opt to use sweet and sour mix or even lemonade at this step. I strongly suggest that you pick up some fresh lemons, cut them open, and get to squeezing that fresh juice. If you've ever had homemade lemonade, you know that nothing store bought can compete!
3. Add 1 Tablespoon of sugar.
This step is about how tart you like your drink. This isn't your typical lemonade so having your cocktail a little sour might be more appealing to balance out the burn of the alcohol. (Sugar not necessary if you used sweet and sour mix)
4. Stir/Shake and pour through a strainer into a Collins glass filled with ice.
This step can be skipped if you opted for the sweet and sour mix route. You just want to get rid of any pulp from your drink.
5. Add 4-6 oz of soda water.
This will create the bubbly filler in your homemade lemonade cocktail and really liven it up. Use as much soda water as you feel necessary.
6. Garnish with 1 cherry and a lemon or orange slice.
Presentation is everything, so make that Vodka Collins shine with a little garnish.
Going the Extra Mile:
Flavored Vodka's can add variations on this drink
Adding a little grenadine to the top of this cocktail will give it more of a cherry lemonade taste
Garnishing and flavoring with strawberries is also a good variation, making a sort of strawberry lemonade
So now you know how to make a Vodka Collins. This is a drink that goes way back, but has survived through the decades. It has become a fan favorite of summer time and is great way to cool off in the heat. Try it next time you are laying by the pool or just want something different.