Halloween Cocktails are a key component to any Halloween party. We already know that we will be drinking Vodka Cocktails and Vodka Mixed Drinks, so why not liven them up for the holidays? Halloween Cocktails must have a few identifying features. First, the color of the cocktail must match the colors of the holiday. We want our Halloween Cocktails to be black, orange, or maybe even a disturbing green! They need to really embody the holiday season and get us in the mood for a night of fright!
Second, our Halloween Cocktails need to have some kind of Halloween theme. Maybe we are drinking a martini made with blood. Maybe this ghastly cocktail was created by the devil himself. Or maybe drinking your Halloween Cocktail will make you see ghosts later that night… Why? Because Halloween is fun! Just like all mixed drinks have gotten their names from somewhere, Halloween Cocktails' names can be just as fun. Having a cleverly named cocktail is really good at setting the mood for the night.
So now that you're all excited to drink during Halloween, let's get to some great Halloween Cocktail Recipes!
Halloween Cocktails – Black Martini: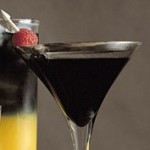 Pour 3.5 ounces of vodka into a cocktail shaker filled with ice.




Feel free to use your vodka of choice.

Pour .5 ounces of Black Raspberry Liqueur.


This is what you will use to replace your vermouth. I would recommend using Chambord and AVOID using raspberry brandy.

Shake (or stir) and serve in a martini glass.




Add 2 black olives if you want a garnish.
This will darken your martini, but not make it completely black. If you want some truly black Halloween Cocktails, I suggest picking up a bottle of Blavod. It's actually a black vodka and I'm sure this company does great during this time of year.
Halloween Cocktails – Vampire Kiss: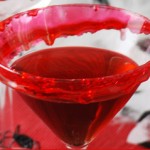 Using a chilled martini glass, Rim the glass with red sugar (use red food coloring).


Lining the rim with red gel food coloring is a nice touch as well.

Pour 1.5 ounces of chilled vodka into your martini glass.


Use cocktail shaker filled with ice to chill if you need to. We want our Hallween Cocktails nice and cold.

Pour .5 ounces of Chambord.


This is about 1/3 of a shot glass.

Pour 1.5 ounces of Champagne.


This will turn the Chambord into more of a red color.

Using the back of a spoon, gently pour a splash of Chambord to float it on top.


This is mainly for looks, but if you can do it right, this will give your Halloween Cocktail an impressive look.
This is a fun Halloween Cocktail that might take a bit of practice, but is really fun to create. If you want to add a garnish, I suggest picking up some wax vampire teeth and dropping them in while you pour the vodka. Trust me, all your friends will love it!
Halloween Cocktails – Dracula's Kiss:
Coat the bottom of a highball glass with grenadine and fill with ice.


No need for a cocktail shaker here.

Add 1.5 ounces of black cherry vodka.


Effen Black Cherry Vodka is preferred, but using Smirnoff's Black Cherry Vodka is acceptable as well.

Fill rest of glass with Coke.


Stirring is optional and garnishing with a cherry adds a nice touch.
Two vampire Halloween Cocktails back to back? Either it's Halloween or they are about to release another Twilight movie… Forgive me if I'm happier that it's the first one.
Halloween Cocktails – Blue Sunshine: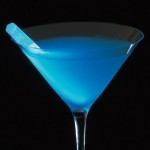 Fill a a cocktail shaker with ice and pour 1 ounce of your favorite vodka.


I suggest something like Ketel One.

Pour in 2 ounces of Hpnotiq.


This will give your Halloween Cocktail a ghoulish blue color.

Add a splash of lemon juice and shake well.


A squeeze of a lemon slice should do it.

Pour into a glass and serve. Garnish with a blue glow stick.
The last step is the most important. In order to really give your Halloween cocktail that really bright blue color, you want to buy some
Mini Blue Glow Sticks
. This is key and I guarantee your guests will love it. By the way, Blue Sunshine is actually an old horror film that you might want to check out for your late night scary movie marathon.
Halloween Cocktails – Witches Brew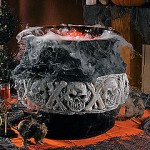 In  a large punch bowl, pour 1 packet of lime green gelatin.


Intriguing I know!

Add 2 cups of boiling water.


Stir mixture until gelatin is fully dissolved.

Add 3 cups of chilled pineapple juice.


Stir your Halloween Cocktail until it is thoroughly mixed.

Add 1 2-liter bottle of either sprite or 7up.


I tend to enjoy  a little carbonation in my Halloween Cocktails.

Add 2-3 cups of vodka


Start with 2 to see if you like the taste. Proceed to add more if you think it needs it.
In order for this batch of Halloween Cocktails to truly be called witches brew, you will need to buy a
large plastic cauldron
 and some dry ice. Carefully break up and place the dry ice at the bottom of your cauldron. Place your large bowl inside the cauldron, and place some more dry ice around the base. Placing the dry ice straight into the punch bowl is also acceptable, although it might make this Halloween cocktail to lose carbonation. Feel free to buy props and decorate your spooky punch bowl and share your Halloween witches brew with all your friends!
Halloween Cocktails – Brain Fluid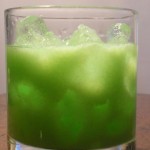 Add 2 ounces of Midori melon liqueur to a cocktail shaker.


This will give us a nice green color.

Add 1 ounce of vodka.


A must for all our Halloween Cocktails.

Add 1 ounce of Baily's Irish Cream.


This will give our brain fluid some froth.

Shake Halloween Cocktail and serve.


Splash it around a little bit in the pour to give that kind of gruesome look.
This best garnish to use for these Halloween Cocktails is the skin off some green grapes. Just peel the skins and float them on the top to give a little substance to your brain fluid!
Halloween Cocktails are definitely a must this holiday season and hopefully you get a chance to try these at your next Halloween party. Remember that it's alright to edit any of these Halloween Cocktails if you think you have a better idea of how they should be. Maybe you try something different and it turns out better! So let me know how these turn out or if you made any improvements to them. If there any Halloween Cocktails that I neglected to include that you feel are a must for this list, I'm all ears. Hope you all enjoy, and have a ghastly Halloween!