Blavod Vodka Review – Initial Impressions:
This Blavod Vodka Review is sure to be one to remember. Imagine your drinking your favorite vodka cocktails and vodka mixed drinks. Now, imagine you were drinking these cocktails made with black vodka. That's right, Blavod Vodka is touted as not just a premium vodka, but a premium black vodka. Seeing as that Halloween is just around the corner, I felt compelled to try this black vodka out now more than ever. Nothing sets the mood of the party more than taking shots or making martini's using black vodka.
First things first, how does Blavod make their vodka black? Blavod's black color is derived from an herb called catechu. Found in southern Asia and central and east Africa, catechu is rich in natural tannin. This is what gives the black vodka its color. Claiming that catechu has no effect on the
Blavod Vodka Facts

Average Price:$23.99 per 750 ml
Distilled From: English Grain, Triple Distilled

Percent Alcohol: 40%

Produced By: Blavod Wines and Spirits plc

Website: blackvodka.com
vodka's flavor, Blavod has prided itself in being a premium vodka with a clever marketing tactic.
Well, it is Halloween after all, so you know I had to give this black vodka a shot for the holidays!
Blavod Vodka Review -The Shot:
My goal is to record myself take a shot of every vodka brand that I review. Why? Well, nothing describes the pain/joy of taking a shot more than looking at a persons face while he does it! So before I describe the shot, go ahead and press play to observe my immediate reaction.
I was actually impressed with how smooth this black vodka went down. The burn was present, but mild. There really was no lingering after taste on my tongue or in the back of my throat. The black vodka was very enjoyable to take as a shooter.
The only thing I really noticed was that the catechu DOES add a flavor. This isn't bad though. It gave the black vodka a bit of sweetness to it. This actually made the shot smoother in general. There was also another flavor that I can't quite describe. I can only equate it to a very faint flavor of clove. It wasn't numbing, but there was a warmness that was there not from the alcohol burn. It was almost soothing. Not what I was expecting from a vodka, but sometimes being different works out.
Overall I was impressed with the shooting of Blavod.
Shooting Grade: B+

Blavod Vodka Review -The Mixed Drink: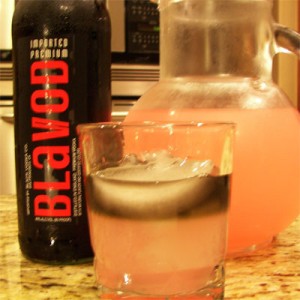 For this Blavod Vodka Review, I chose to make a Capecod, or Vodka Cranberry. I try to keep my Vodka Mixed Drinks and Vodka Cocktails to simple highballs when doing reviews.
The best part of making this black vodka cocktail is the pour. By pouring the cranberry juice in the glass first, you can then "float" the vodka on top, making a really cool looking cocktail. Simply pour the black vodka slowly over the back of a spoon and it will actually sit on top of your mixer. Excellent for presentation.
After admiring the look of the black vodka mixed drink, I stirred the Blavod into the juice and took a sip. The highball was crisp and smooth with a little burn. However, I probably added 2 ounces of the black vodka to my highball to get that nice dual color look earlier. However, despite this, it complimented the beverage very well. It didn't have a harsh bitter flavor, and was quite tasty. I definitely enjoyed it.
Blavod vodka isn't the best I've ever had, and there are probably quite a few that rank higher. However, the awesome black color created one of the best looking cocktails I've ever seen. It's for this reason that I grade the Mixed Drink portion so generously.
Mixed Drink Grade: A-
Blavod Vodka Review – Conclusion:
Blavod Vodka is definitely a marketing success with it's awesome brand of black vodka. It's not just a gimic though. Blavod's black vodka is quite tasty, turning out to be a very good shooter. It goes down smooth with only a hint of sweetness left behind. Blavod Vodka's real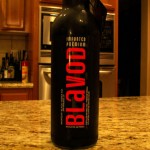 success is in it's use in vodka mixed drinks and vodka cocktails. Floating the black vodka over your vodka mixer of choice is a great way to impress guests with your presentation skills. Obviously, Halloween appears to be the best time of the year to break out a bottle. Using Orange Juice and black vodka to make your Halloween colored twisted screwdriver is always fun.
Any other time of year, I might have been a bit more critical of this black vodka. But given the holidays, I can't help but recommend everyone pick up a bottle and try it out!
Final Grade: A-