Absolut Vodka Review – Initial Impressions:
This Absolut Vodka Review is going to be an interesting one for me. I usually can handle all different kinds of vodkas, especially if they are just going into my vodka mixed drinks or vodka cocktails. But there's just something that I never liked about Absolut Vodka. I'll try to be unbiased in this absolut vodka review, but I've already got a small distaste for this stuff. We'll see how it goes.
Absolut Vodka has quite a history. It was established way back in 1879 and produced in Sweden. It was revolutionary at the time and gave the citizens an alternative liquor to drink. Fast forward a 100 years and Absolut Vodka was introduced to the global market. It took the world by storm and is currently sitting as the 3rd largest liquor distributor in the world. It has gained so much popularity that it has created it's own sort of culture around itself. Absolut Vodka enlists all kinds of different artists and
Absolut Vodka Facts

Average Price:$17.99 per 750 ml
Distilled From: 100% winter wheat (2 lbs/bottle), through constant distillation

Percent Alcohol: 40%

Produced By: V & S Group

Website: absolut.com
sculptors to create their own unique brand of art, shown both on their bottle and at venues. Absolut Vodka has come a long way, and it shows through the media and the recognition of their name by everyone. It is the vodka of choice for a lot of peoples Vodka Mixed Drinks and Vodka Cocktails.
Despite it all, this Absolut Vodka Review will still be a little hard for me. I'll try to forget everything I know about Absolut Vodka, but some things you just can't forget.
Absolut Vodka Review -The Shot:
My goal is to record myself take a shot of every vodka brand that I review. Why? Well, nothing describes the pain/joy of taking a shot more than looking at a persons face while he does it! So before I describe the shot, go ahead and press play to observe my immediate reaction.
As you can see from the video, that's never a good way to start a review, especially an Absolut Vodka Review. As I take the shot, I can immediately feel the burn of the alcohol on the back of my throat. It's got a very strong flavor profile and left a pretty bitter taste on the back of my tongue. If you look at the Absolut Vodka facts, you'll see that each bottle is made with 2 lbs of winter wheat per 750ml bottle. That's a lot of wheat. This is most likely the reason it leaves such a strong flavor in your mouth.
They sell themselves as being "absolutely pure vodka" and after taking this shot, I would have to say I agree. This just doesn't make for the most enjoyable experience.
Shooting Grade: C
Absolut Vodka Review -The Mixed Drink: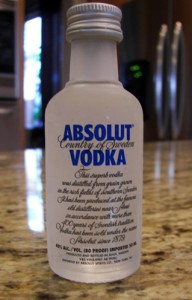 For this Absolut Vodka Review, I chose to make a Capecod, or Vodka Cranberry. I try to keep my Vodka Mixed Drinks and Vodka Cocktails to simple highballs when doing reviews. After taking a small sip, I was actually a little surprised on the improvement of this vodka when mixed with a juice.
That wheat flavor of the Absolut Vodka that left a bitter taste in my mouth was now complimenting the cranberry juice very well. The burn was toned down (although still there) and the cocktail actually didn't taste too bad. I believe this is why Absolut Vodka pushes their Vodka Mixed Drinks so hard. If you ever notice, they market very heavily on using their vodkas in your highballs and flavored martinis of choice. Something about mixing their vodka with something else definitely improves it overall.
I won't say I loved the Absolut Vodka in my Vodka Cranberry. However, it was a definite improvement over taking a straight shot of it.
Mixed Drink Grade: B
Absolut Vodka Review – Conclusion:
Absolut Vodka is definitely a marketing success and has created quite a name for itself. It is seen all over the world and consumed by people of many different countries. I like the history, the business model, and culture Absolut Vodka has created for itself. I just really wish I liked their vodka nearly as much. I would probably never recommend shooting Absolut unless absolutely necessary. However, feel free to use in your Vodka Mixed Drinks of choice. It's not a bad vodka by any means, maybe I just hold this name to a higher standard.
Final Grade: B-