Of all the Disney Cocktail Drinks that could be created, the Mad Hatter definitely sounds the most fun to make. He's zany, crazy, off his rocker, and I'm pretty sure he's doctoring up his tea with a little vodka! Why else would he act that way.
Alright, drugs could make him do that too, but I digress!
Considering March is the month of the Irish and all things green (hint: Saint Patrick's Day Cocktail!), it seems reasonable that I present this really easy and fun vodka mixed drink. I mean, who wouldn't want a drink vodka drink on St. Patty's Day!
Mad Hatter Recipe:
Pour 1.5 ounces of Vodka into a rocks glass filled with ice. You may want to use a rocks glass to ensure you have enough room for the redbull.
Pour in 1 ounce of  Midori liquor. This is what will turn your vodka that awesome green color and give it the look of a mad hatter!
Pour in 1 ounce of Sweet and Sour. This will give your mixed drink a little extra zing and flavor.
Take a can of whip cream and fill your glass till it's higher than the rim. Of course this is your mad hatter's hat! The whip cream when mixed in will give your drink a creamy, smooth texture that goes down easy.
Mad Hatter Ingredients:
Vodka
Midori Liquor
rocks glass
Sweet and Sour
Whip Cream
Post it Note (optional)
Go the extra mile
If you want to give it a little more of a punch, try adding some soda water to give it a little fizz!
Add a "10/6" Post-It Note to your glass so everyone knows it's the mad hatter!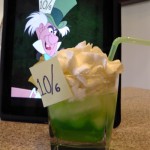 So that's the Recipe for a Mad Hatter Cocktail. When compared to other Vodka Cocktails, I would say it is one of the more simple ones to make, but then that's not always a bad thing. Easy, good looking cocktails are a great way to liven up a party and to make yourself stand out. Try making one for your next Disney Theme party or for a Saint Patrick's Day bash. Anytime you're in the mood for a little green, try out the Mad Hatter!
Good luck and let me know how it goes!