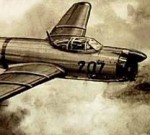 Kamikaze! This mixed drink is one of the more fun shooters to order. They are quick to take and when ordered, everyone knows that the party is about to get started.  There are two theories in answering the question: when was the Kamikaze invented? The first one is that it originated in Japan during the American occupation at a bar on Yokosuka base near Tokyo. Being Japan, the cocktail was naturally given its current name.
Another theory as to when the kamikaze was invented is directed to the Boston area. Supposedly a Bartender named Liam worked at Eliot Lounge (now closed) in downtown boston in 1974 and was known for topping off his vodka drinks with a little triple sec. One such drink was a vodka-lime juice. He liked the outcome of this and turned it into his own drink, which he served in a mug.
Downtown Boston is a busy and bustling place with plenty of movers and shakers. It is rumored that this drink was then served to a Smirnoff executive who fell in love with the cocktail. A few years later, Smirnoff came out with an ad displaying Liam's drink under the title "Kamikaze". The rest is history as they say.
In any case, this is definitely one of the more common shooters ordered and it is because it's quite a tasty drink! The only thing you need to know about a Kamikaze is that when it's in your hand, you're 100% committed to finish it in one clean swig!
Ingredients needed to make a Kamikaze:
Vodka
Triple Sec (orange liqueur)
Lime Juice
ice
shooter glass
cocktail shaker or tall glass
strainer
How to Make a Kamikaze Shot: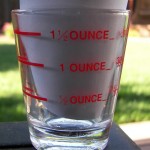 1. Pour 1.5 ounces of vodka into a glass or cocktail shaker filled with ice.
Some recipes call for 1 ounce right here. It's up to you but as I always say, nothing wrong with a little extra 😉
2. Pour 1 ounce of triple sec.
If you have a standard shot glass, 1.5 ounces is almost to the rim, so 2/3's full would be about 1 ounce.
3. Pour 1 ounce of lime juice.
Same measurements as triple sec, keep these 2 ingredients even. Try to use a fresh lime if possible for best flavor.
4. Shake generously and pour the liquid through a strainer into a shooter glass. 
If you don't have a shaker cup, it's not a big deal. Just mix up the contents as best as you can. This mixed drink is a shooter, so when you pour out into your shooter glass, be sure not to get any ice in there as well. Straining isn't mandatory, it's only to reduce the amount of pulp in the shooter.
Variation of the Kamikaze Cocktail:
Replacing the lime juice with sweet and sour mix and a pinch of sugar is also an acceptable method to making the kamikaze. You'll have to try both to see which method you prefer!
So now you know how to make a Kamikaze. Whip up a batch of these at a house party with your friends, or order at a bar/club with confidence. These are great to take together with friends and always have a way with setting the mood right.