Easter is a time of coming together with your family, maybe enjoying a nice Easter morning service, and probably followed by an Easter egg hunt for the young ones. This is definitely a good time to reconnect with family and friends, as well as spending some quality time with them.
But what about the adults? There's no Easter egg hunt for them, so what could they look forward to?
Well, here at Vodka Only, I've found a fun way for you to enjoy your own personal Easter Basket. While there's no hunt, I'm sure you'll find plenty of goodies in your glass. This was actually originally created by the people over at feastoffun.com, so feel free to show them love as well!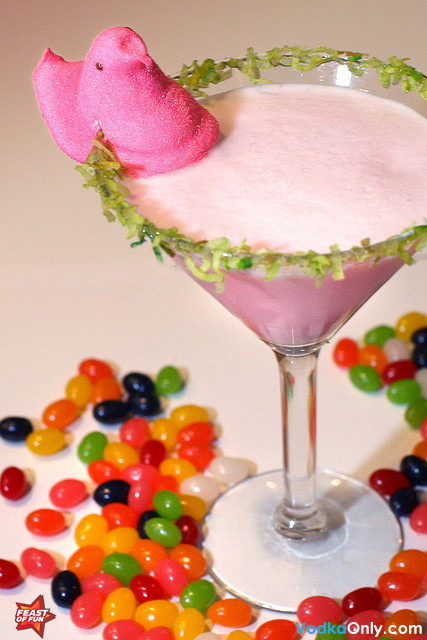 Ingredients
1.5 oz Cherry Vodka
.5 oz Triple Sec
3 oz Half and Half or Milk
Dash of Grenadine
Instructions
Fill a cocktail shaker with ice and all of your ingredients.
Shake generously.
Pour cocktail into your specially decorated martini glass.
Preparation time: 3 minute(s)
Number of servings (yield): 1
My rating 4 stars:  ★★★★☆ 1 review(s)
Easter Basket Cocktail: Prepare the Serving glass
Take a Martini Glass and rim it with simple syrup.If you don't have simple syrup, wetting the rim with sugar water can work too.
Dip the Martini Glass rim in green coconut flakes.Use green food coloring to dye coconut flakes green.
Take a marshmallow Peep and adorn the glass with it.Adds a nice touch to the Easter Basket Cocktail and a nice treat when you finish your drink. Feel free to garnish your tray of martini glasses with Easter Jelly Beans.
Easter Basket Cocktail: Conclusion
Overall, I think this is a very fun and festive cocktail to make for the holidays. When everybody is over at your  house, grilling up some delicious meat and preparing for the Easter egg hunt, off the adults their own Easter Basket Cocktail and allow them to have a little fun too. Let me know what you think!