Titos Vodka – Initial Impressions:
This Vodka Review on Titos Vodka is actually kind of exciting. I'm not that familiar with Titos Vodka, even though I have heard nothing but good things about it. I've actually never had it in any Vodka Mixed Drinks or Vodka Cocktails. But in the late 2000's, Tito's Vodka earned a double gold rating in the San Francisco Spirits Competition. So that's got to mean something, right?
Titos Vodka is made in Austin, Texas, which may come as a bit of surprise. Despite thoughts of Russia or even European vodka distilleries, Tito's started in good ol' Texas. Originally planning on making Whiskey, Tito Beveridge came across an unusual discovery when pooling the market for liquor ideas. When asking local alcohol distributors about selling his vodka, they said, "If you can make a real smooth vodka, that a girl could drink straight, than you would have something." And that was it. From that point forward, Titos Vodka was made to be clean and smooth enough for the purpose of shooting.
Titos Vodka Facts

Average Price:$18.99 per 750 ml
Distilled From: 100% yellow corn, in an old-fashioned pot still, 6 times distilled

Percent Alcohol: 40%

Produced By: Fifth Generation Inc.

Website: titosvodka.com
I admire the goal, but I would assume that every vodka distiller in the world seeks to do the same. But this is the story Titos Vodka sells to its customers so I plan on holding them to their mission statements. Let's take a shot and see how it goes!
Titos Vodka -The Shot:
My goal is to record myself take a shot of every vodka brand that I review. Why? Well, nothing describes the pain/joy of taking a shot more than looking at a persons face while he does it! So before I describe the shot, go ahead and press play to observe my immediate reaction.
Alright, well as you can see, I actually enjoyed the shot. The Titos Vodka shot went down fairly smooth, and tasted pretty good. It did have a small bite on the back end, but it didn't leave any bitter or bad flavors in my mouth or on the back of my tongue. A lot of people like shooting Tito's Vodka because of the fact that it tastes a little sweeter than normal vodkas. This is most likely due to the fact that it's distilled with 100% yellow corn, which is naturally a lot sweeter than either wheat or potatoes.
Overall I enjoyed shooting Titos Vodka and would happily order shots of this brand next time I'm at a bar. The bite is mild and should be attributed to that all vodka is going to have a least a small one!
Shooting Grade: A-
Titos Vodka -The Mixed Drink:
For this Vodka Review on Titos Vodka, I chose to make a Capecod, or Vodka Cranberry. I try to keep my Vodka Mixed Drinks and Vodka Cocktails to simple highballs when doing reviews. After giving the drink a good stir, I started to sip the Tito's Vodka. After a few swigs, I had a few mixed feelings about using Tito's in your mixed drinks.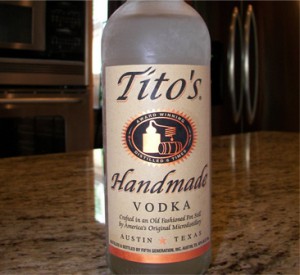 I felt like the bitter sweet flavors of the juice didn't quite mesh as well as it should have with the vodka. I think where the sweetness of the yellow corn was welcomed in the shot, it is now unwelcome in the vodka mixed drink. I didn't want to be too hasty in my grading because this was so unexpected. Unfortunately I didn't have any 7-up to try mixing it with, so I tried Titos Vodka with a Coke Zero. This also didn't taste quite as well as I hoped.
I finally made a plain vodka soda with lime and that turned out to be really good. It appears that Titos Vodka has a problem playing with others. The sweet aftertaste of this vodka unfortunately doesn't work well with other strong flavors. I have to grade as a mixer overall, and I'm afraid it's a bit too one-dimensional to be used in all recipes.
Mixed Drink Grade: B
Titos Vodka – Conclusion:
Titos Vodka is a great tasting vodka that should definitely be tried by everyone. I think it definitely lives up to the claims of it being a great shooting vodka. It's sweet and crisp flavor goes down smooth and leaves you with a mildly sweet taste on your tongue.
Unfortunately, I had a problem with mixing Titos Vodka with any of other liquid. When Tito's is the focal point, it shines through brilliantly and is sure to impress your friends. However, it has a problem joining together with other flavors in the glass. I would recommend keeping a bottle around for when the mood is right to take shots.
Final Grade: B+