Initial Thoughts:
I would be lying if I said vodka was the only alcohol I drink. Besides other spirits, I also enjoy my fair share of white wines. Nothing extravagant, but nice wines ranging from the $10-30 a bottle range. It was probably about a year ago that I got turned onto this bottle of chardonnay under the brand name Cupcake. From that point forward, it was my white wine of choice for bringing to parties or drinking at home. Ranging from $9-13 depending on what store you get it from, it was the perfect wine for any occasion.
The actual Cupcake brand started up in 2008, with their now 14 vineyards located in central California. From 2009 onward, they have received nothing but praise for their product and have expanded production to make Cupcake wine available throughout the country and soon internationally as well.
So you can imagine both my surprise and excitement when I saw Cupcake Vodka Frosting sitting on the shelf on my last visit to Bevmo. Frosting is just one of their four vodka flavors. The other three are their original vodka, devil's food cake, and lemon chiffon.
Cupcake Facts

Average Price:$16.99 per 750 ml
Distilled From: 100% American Grains, charcoal filtration, distilled 6 times, with California Sierra Nevada water added to dilute

Percent Alcohol: 35%

Produced By: Underdog Wine and Spirits

Website: cupcakevodka.com
I've had a few vanilla flavored vodkas in my day, but I had a feeling that this one was going to be extra special. Labeling your vodka frosting says that it is going to be so much more than just a vanilla flavored vodka. I really didn't have much fear going into the shot, I put my faith in this brand to deliver. Besides, my curiosity as to what frosting flavored vodka tasted like overpowered any of those pre-shot jitters.
The Shot:
My goal is to record myself take a shot of every vodka brand that I review. Why? Well, nothing describes the pain/joy of taking a shot then looking at a persons face while he does it! So before I describe the shot, go ahead and press play to observe my immediate reaction.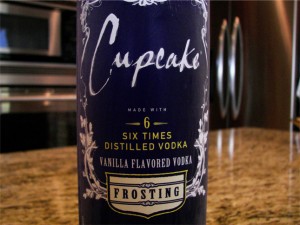 This review is a little different from your standard in that the vodka is flavored. When drinking a flavored vodka, you are looking to see if it actually infused with the alcohol, or merely sits on top as it burns your throat. This vodka is advertised as "frosting" flavored, not just vanilla, so my expectations were high.
As you can see from the video, I really enjoyed the shot (it was filled to the brim too!). When the liquid passed over my tongue, I actually tasted frosting, not just vanilla. I could really taste the creaminess and velvety flavor of this vodka. I almost feel like I'm describing a fine red wine but these are the flavors I get from this vodka! It finished really sweet and with minimal burn on the back of my throat. I was left with a feeling like I just enjoyed a nice shot full of frosting.
The shot I took was chilled, so I may have cheated a little bit on how much bite it really has. However, I can't see this deterring anyone from wanting to try this delicious frosting flavored vodka.
Shooting Grade: A+
The Mixed Drink:
For this review, I have chosen to go with a screwdriver as my mixed drink of choice. Before making this drink, I thought about what highball could I make that would give me the most flavor and would best utilize this frosting flavor. I decided on the screwdriver because this vodka is so rich and creamy, I felt the orange juice would turn this screwdriver into more of a creamsicle.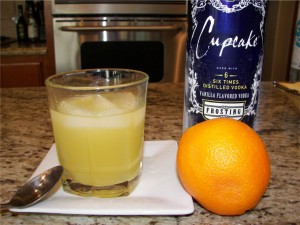 Sure enough, I added 1.5 ounces of Cupcake Vodka and about 3-5 ounces of orange juice to create my screwdriver/creamsicle. It tasted amazing! Like I mentioned earlier, this isn't just a vanilla flavored vodka. It really does taste like frosting. The orange citrus flavors gave it that orange Popsicle taste with the creamy ice cream center being replaced by cupcake vodka. I know there is a cocktail called the Creamsicle, but I until you use this vodka to make it, I can't imagine anything else competing.
What you are usually looking for in the vodka for a mixed drink is, how does the alcohol help the cocktail? Well, let me tell you this vodka not only helps the cocktail, it pretty much carries it. The only negative thing I can point out about this vodka is that, like any flavored vodka, it is limited in the types of cocktails in can be used in. I don't think it would work well in a vodka collins or a greyhound. But luckily for you, Cupcake vodka three other flavors. They've really captured good clean flavors in this vodka. If their original finishes anything like their Frosting, you can expect a review of that coming soon!
Mixed Drink Grade: A
Conclusion:
Maybe Cupcake vodka should be in a separate category, along with all the other flavored vodkas. It helps being flavored when reviewing a type of alcohol that is by definition flavorless. Well, whether you consider this review to be one of a flavored vodka or just a vodka in general, I stand by my grade. At a loss of only 5% alcohol by volume, Cupcake has created something that is sure to be placed in every home, at every party, and behind every bar soon enough. This vodka is still relatively new but I can tell they are on to something. I wish them luck, although by the quality of their product, I don't think they'll need it.
Final Grade: A