Review Overview
High end spirit that features the unique flavors of ginger. While I would recommend trying it, I wish the ginger was just a little stronger.
Alchemy Ginger Vodka Review – Initial Impressions:
Alchemy Ginger Vodka is a unique and different kind of flavored vodka made from the same people who brought you wodka vodka. If you haven't seem my review of wodka vodka, I suggest you go check it out if you're looking for a good, cheap unflavored vodka. Alchemy is their higher end specialty brand that features unique flavored liqueurs that can offer you a different kind of cocktail experience.
I have discussed already in my Alchemy Chocolate Vodka Review and Alchemy Wild Cherry Vodka Review what makes this brand different, but I'll repeat it here. What makes Alchemy unique is that they aren't just adding flavored extracts to their finished product. After the distillation process, they then move the vodka into barrels with wild cherries for a real vodka infusion.  The result is a full 40% alcohol that should taste like freshly sliced ginger. These real non artificial flavors should offer a better overall experience to a vodka drinker.
Let's take the shot and see if this one is a winner!
Alchemy Ginger Vodka Review -The Shot:
Alchemy Ginger Vodka definitely captures the essence of real ginger flavors. The rich, crisp shot went down well, with light flavors of ginger on the tail end. I am a huge fan of ginger and really like the idea of this infusion. It gives the vodka a unique flavor and I could see this being a welcome twist in a vodka cocktail.
Unfortunately, this vodka's biggest downfall is that it doesn't offer enough ginger in the infusion. The flavors are really nice and enjoyable, but a little too faint for my liking. The vodka itself is nice, but I just feel like I took a shot of vodka with just a little ginger on the side. Overall I enjoyed it, I just wished they could have either infused more ginger or for a longer period of time.
Alchemy Ginger Vodka Review -The Mixed Drink: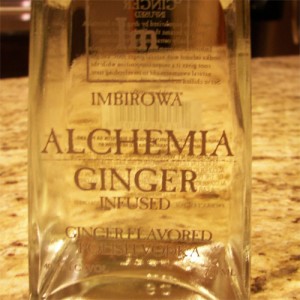 Alchemy Ginger Vodka is an interesting and different kind of vodka that doesn't have a real go to mixer that I can think of. I decided to start out slow with some club soda (an alcoholic gingerale so to speak). This worked out very well. When used in a cocktail, the ginger expands and lightens up even more for a bit of a floral experience. The rye grain that was used to distill the vodka was also very pleasant. I could see myself drinking these on a nice summer afternoon.
In addition to club soda, I feel that this vodkas greatest strength would be in the use of martinis. Whether you are making them straight up, with a little vermouth, or a specialty martini made with herbs such as basil (which I highly recommend), this vodka can find a place in just about any light, pure drink. Stay away from tropical juices though, as they would simply overpower this vodka.
Alchemy Ginger Vodka Review -Final Thoughts:
Alchemy Ginger Vodka is a fun and creative vodka infusion that takes something so simple as ginger root and tries to transform it into so much more. I love using ginger when i cook chicken or am eating sushi and love the idea of using it with vodka.
My only complaint is that I would have liked a little longer infusion to really have that punch of ginger. Maybe that's my own personal love for ginger, but I think they played it a little safe with this one. I still enjoyed it, however, and encourage anyone who loves ginger to try it too!
Alchemy Ginger Vodka Facts
Average Price: $30 per 750 mL
Distilled From: Rye
Percent Alcohol: 40%
Produced By: Panache Spirits
Website: alchemiainfusions.com