Skyy Vodka Review – Initial Impressions:
Skyy Vodka is a fairly well known spirit that I'm sure a lot of people have enjoyed at one point or another. Finding a good vodka for your vodka cocktails and vodka mixed drinks is important; you don't want to waste your money at the club ordering sub par alcohol.
Skyy Vodka was founded in San Francisco in 1992 as a small startup company. Almost 20 years later, they are now a top market competitor with many other high profile name brands. Skyy prides itself on it's look and as a top choice for the club scene. I have personally partaken in quite a bit of skyy vodka in my time. However, never because of it's taste. Skyy is competitively priced around Smirnoff and I always thought it was a little better. Because of this, it turned into my vodka of choice for a very brief period of time.
As time has passed, I have found other vodkas to sip on and Skyy has drifted away from bar cart. Skyy Vodka is probably on the lower end of the vodka spectrum, but still one that I think positively about.
Skyy Vodka Facts
Average Price: $13.99 per 750 ml
Distilled From: American Grain, Quadruple Distillation, Triple Filtration
Percent Alcohol: 40%
Produced By: SKYY Spirits LLC
Website: skyy.com/
Time to forget any preconceived notions; I always critique with an open mind. This Skyy vodka review will be no different.
Skyy Vodka Review -The Shot:
My goal is to record myself take a shot of every vodka brand that I review. Why? Well, nothing describes the pain/joy of taking a shot more than looking at a persons face while he does it! So before I describe the shot, go ahead and press play to observe my immediate reaction.
Taking the shot for this Skyy Vodka Review was a little harsher than I wanted it to be. As the liquid ran down the back of my throat, I could feel the strong burn of the alcohol. As I swallowed, I could feel a back draft of the burn come back up and all the way into my nostrils. The Skyy Vodka had a bit of a sweetness to it, but it wasn't enough to overcome that burn.
Skyy Vodka is always priced fairly well, but I can't let this effect the grade. Despite my many encounters with this vodka, I'm afraid I can't do it any favors. Plain and simple it's just not the greatest shooter. If you're planning on taking shots, I would look in a different direction.
Shooting Grade: C+

Skyy Vodka Review -The Mixed Drink:
For this Skyy Vodka Review, I chose to make a Vodka Soda with lime. I try to keep my Vodka Mixed Drinks and Vodka Cocktails simple when doing reviews.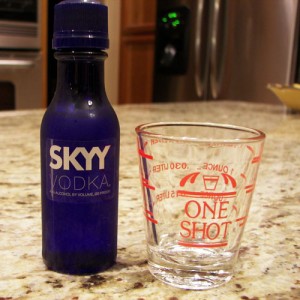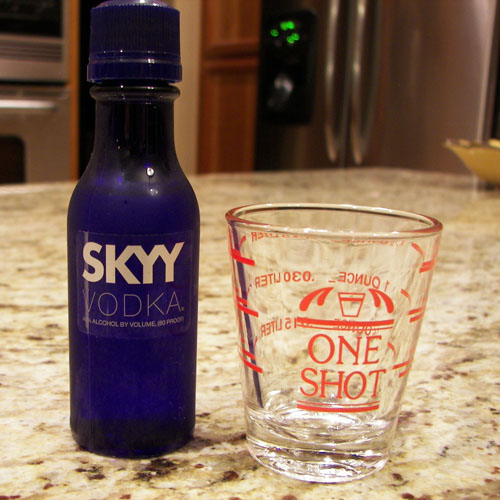 Skyy Vodka wasn't too great as a shot, so I was anxious to see how it did in a Vodka Mixed Drink. Luckily, it seemed to better in this category. The overly harsh burn could still be detected, but that sweetness that I mentioned helped lend to the drink. The vodka was crisp and bit back in the cocktail. For some people, this is a good thing. Some individuals like to be able to taste the alcohol in a vodka mixed drink.
I still can't say that this is the best vodka used for a cocktail, but it still wasn't the worst. I would consider it acceptable if it was offered to me. When it comes to vodka, you usually can always do worse.
Mixed Drink Grade: B
Skyy Vodka Review – Conclusion:
Skyy Vodka is one of the more well known vodkas that makes its way into clubs. It's simple yet classy blue bottle tends to stick out when walking down the vodka aisle as well. I would be hard pressed to tell people to stay away from it, as it's affordable and seen slightly better than Smirnoff. Because of this, people swear by it and tend to think that it is actually a premium vodka.
Although this isn't quite true (in my opinion), I still enjoy Skyy vodka from time to time and feel everyone should try it at least once. For it's price, it could be your own personal "house" vodka, for when you want something cheap to always have on hand.
Final Grade: B-