Pumpkin Pie Vodka Review – Initial Impressions:
Pumpkin Pie Vodka Facts
Average Price: $15 per 750 mL
Distilled From: Wheat
Percent Alcohol: 40%
Produced By: White Rock Distilleries
Website: pinnaclevodka.com 
Pinnacle Pumpkin Pie Vodka definitely puts a different twist on your vodka drinks of choice for the holidays. Pinnacle vodka has really made a name for itself as a solid mid range vodka as well as flavored vodka innovator. Probably their most famous flavored vodka, Pinnacle Whipped Vodka, is already a big hit and they look to capitalize on this notoriety with another seasonal favorite.
What I like about this vodka is it's originality. Lets face it, not everyone is a beer and wine person. Sometimes you need a little something extra in your glass as you sit around your thanksgiving table to chow down on some awesome meat. Sometimes, you could use a little holiday cheer that isn't so typical. I'm really excited about this vodka and I hope that it doesn't let me down.
Pumpkin Pie Vodka Review -The Shot:
Pinnacle has definitely packed this one full of flavors. Immediately I get a sensation of nutmeg and cinnamon has the liquid courage washes over my palette. Accompanied by these warm flavors is a taste of cavity inducing sweetness that is doing all it can to hide the cool burn of alcohol. While I appreciate its efforts, I feel like this sugary flavor isn't needed. The shot finishes with a semi-smooth finish, attributed to its lower 30% alcohol content.
Conclusion? I definitely like the nutmeg flavors instilled in this vodka. While I don't quite get pumpkin pie (more of a s'more pie made by campfire), it definitely reminds me of the fall and holiday season. The flavors are pleasant and definitely help cut down the sugary finish. Not too bad at all.
Pumpkin Pie Vodka Review -The Mixed Drink: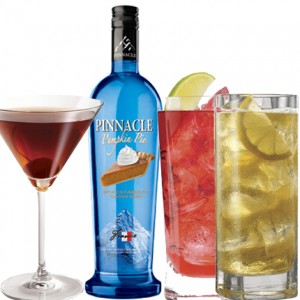 Now earlier this month, I wrote up some great holiday recipes for you to try using this vodka. I'll keep it simple for this review, and use a nice ginger ale.
After making my vodka drink, I took a nice easy sip anticipating a mouth full of bright flavors. I was right. The ginger mixed almost perfectly with the pumpkin pie vodka to help cut the sharp, sugary after taste. As I continued to drink it, I thought of how good this really would be to bring to a family gathering to offer those who just want something a little different to sip on. I would definitely recommend using this as a mixer.
Pumpkin Pie Vodka Review -Final Thoughts:
Pinnacle Pumpkin Pie Vodka definitely surprised me on this one. I've always been iffy on flavored vodkas. While I can tolerate the incredibly sweet Whipped Vodka, I actually really enjoyed this one. I probably wouldn't get this for the spring or summer time, but it definitely suits the colder weather seasons. This vodka is still pretty sweet but definitely really good in a mixed cocktail.
I definitely recommend trying out Pinnacle Pumpkin Pie Vodka for all your holiday vodka drinks this season.
Review Overview
While the flavor of actual pumpkin gets a little lost in the execution, you'll know doubt be treated with the warm flavors of fall with this vodka.