Review Overview
This is a vodka for the purists. Clean, crisp finish with a hint of sweetness from the wheat. Goes great smooth or in a cocktail.
Monte Carlo Vodka Review – Initial Impressions:
Monte Carlo Vodka makes me want to believe.
Allow me to preface that statement. About a year ago, I wrote an article talking about why absolut vodka is so popular. Why is any vodka popular?
Marketing. In my experience tasting, sampling, and reviewing vodka, marketing plays an even larger role in the vodka niche. Why? Because the product you're selling is by definition "tasteless" and "odorless". It's hard to tell the difference between brands. As a vodka connoisseur, I can understand this. So the marketing machines of big money companies force you to only know their brand.
So when an unknown great tasting vodka comes along, it makes me want to believe that there is still room in this industry for just real, clean, good tasting vodka to break out and steal the show. Well, let me tell you, Monte Carlo Vodka is one of those vodkas that has the potential to do just that.
Monte Carlo Vodka is a relatively unknown vodka that is trying to make a name for itself. Located in the heart of the world famous Cognac region of France, Monte Carlo uses only the best cereal grains from the Champagne Belt. There is a certain quality assurance the consumer gets knowing that this vodka comes from such an esteemed region. 9 times distilled and 7 times filtered, Monte Carlo Vodka may have hit a sweet spot with their product.
Monte Carlo Vodka Review -The Shot: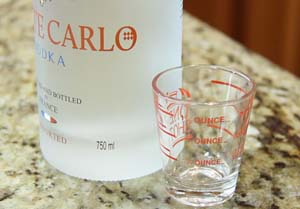 As I took the shot, I was immediately surprised by how smooth it was. When you smell this vodka, you pick up the faint aroma of corn husks with a little wheat meal. As I drank the vodka, I could actually taste a little sweetness as well. What surprised me was its depth of warmth, yet minimal burn down the throat. I'm not exactly sure what kind of water they use to make this vodka, but the clean taste it left on my tongue makes me want to buy some of that bottled water.
In a sentence: it was a damn good shot. Something you wouldn't be scared to take with your friends. That's something I can't say the same for Skyy or Absolut. I would drink this vodka neat any time.
Monte Carlo Vodka Review -The Mixed Drink: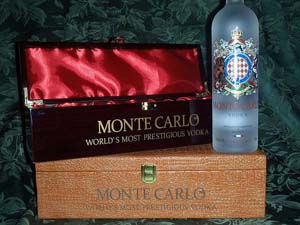 I always take a shot of vodka before I even think of making a cocktail or mixed drink. It acts as my buffer. If a vodka is just alright, I'll give it something easy like cranberry juice or soda. But when a vodka comes in and tries to challenge me, I give it the real test; the martini.
I don't do anything fancy; 3 oz vodka with just a splash of vermouth, shaken not stirred. The sweet aroma of the vodka melds perfectly with the sweet wine. As I take a sip, I am immediately impressed (Quick side note: Classic neat martinis tend to be better with gin. Gin is basically vodka distilled with the sweet flavor of juniper berries). So to find a vodka that I actually enjoy drinking a martini with is no easy task. The vodka continued to go down smooth and was everything I could want from a "flavorless, odorless" alcohol. Monte Carlo Vodka definitely impressed me.
Monte Carlo Vodka Review -Final Thoughts:
Sometimes all it takes is one good vodka recipe and a belief. A belief that you have something special and need to share it with the world. Monte Carlo Vodka has something special and I hope they are able to find more voices to help them sing their praises along their way. I know they are trying to cut out a small niche for themselves in the United States and I hope they succeed. With so much money being spent by big name companies, it makes it hard to be heard.
Well, if you ever find yourself in a store and manage to see Monte Carlo Vodka sitting on the shelf, do yourself a favor and just buy it. You'll already know about it because you heard it here first.
Monte Carlo Vodka Facts
Average Price: $29 per 750 mL
Distilled From: wheat grain, 9 times, filtered 7 times
Percent Alcohol: 40%
Produced By: Maison Rene Laclie Spirits.
Website: montecarlovodka.net