Island 808 Lychee Vodka Review – Initial Impressions:
Island 808 Lychee Vodka is a flavored vodka of the relatively new brand Island 808 that is trying to make a name for itself for it's high quality fruit flavor. Many Vodka Cocktails and Vodka Mixed Drinks do well with flavored liquor included in the recipes. I'm always trying to find good flavored vodkas and so hopefully this will step up to the challenge.
Just like their standard Island 808 vodka, Island 808 Lychee vodka tries to really embody the Hawaiian Islands by distilling and producing their vodka from pineapples.
Flavoring their vodka with Lychee is really a homage to the Hawaiian islands, as lychee is a popular fruit there. As excited as I am about this flavor, I feel bad because I've never actually tried a lychee fruit. Hopefully the flavor will be delicious in its own right and I can recommend this to people whether they are fans of lychee or not!
Island 808 Lychee Vodka Facts

Average Price: $12.99 per 750 ml
Distilled From: Pineapple, Triple Distilled
Percent Alcohol: 30%

Produced By: Island 808 Trading CO.

Website: 808island.com/
Island 808 Lychee Vodka Review -The Shot:
My goal is to record myself take a shot of every vodka brand that I review. Why? Well, nothing describes the pain/joy of taking a shot more than looking at a persons face while he does it! So before I describe the shot, go ahead and press play to observe my immediate reaction.
Island 808 Coconut Vodka is only 30% alcohol, so naturally it's a little easier to shoot than regular vodkas. If you remember from my Pineapple Vodka Review, it went down incredibly smooth and the flavor was very full and rich. I liked their Mango Vodka almost as well. I'll get straight to the point: This vodka was very tasty, but did have a little bitterness.
I really can't tell if I like it a lot or just think it's ok. The tropical flavor is good, but foreign to me. I don't really know what I'm tasting! This wasn't a bad vodka to shoot, but again the alcohol content is a little lower. Other than the mild bitterness and burn, there's really nothing wrong with it. But because it couldn't "wow" me, It's just above average, not great.
Shooting Grade: B

Island 808 Lychee Vodka Review -The Mixed Drink: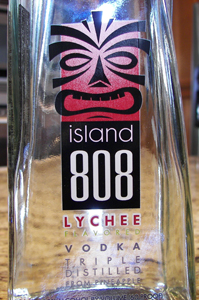 For this Island 808 Coconut Vodka Review, I chose to make a Vodka Soda. I like to keep my Vodka Mixed Drinks and Vodka Cocktails simple when doing reviews.
I didn't want to use cranberry juice like a usually do because the lychee flavor didn't seem like it would mesh well with it. As with all Island 808 flavored vodkas, they all seem to do very well on their own. They don't need much of a mixer so feel free to take a purist's approach when finding your mixer of choice.
Another good option was to use this vodka to make a Lychee Martini. Vodka, Ice, vermouth optional, and shake in a cocktail shaker. This gives you a great martini with a bit of a different tropical flavor. Definitely something to try with this vodka.
 Drink Grade: B
Island 808 Lychee Vodka Review – Conclusion:
Island 808 Vodka is an interesting new vodka brand to hit the shelves. Distilled from pineapples, it stands out as something different to try in your vodka endeavors. Vodka Cocktails and Vodka Mixed Drinks are all the same, but the vodka used to make them is what makes them unique.
Island 808 Lychee Vodka is definitely something different to try. It's tropical flavors are sweet and it provides a solid, affordable option to add some variety to your liquor cabinet. It's not the best vodka I've ever had, but it's definitely one of the more intriguing. I would suggest giving it a shot and seeing how you like it.
Final Grade: B