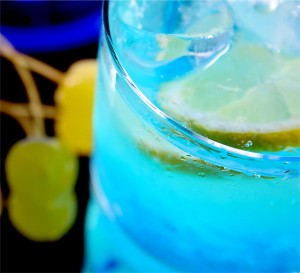 This is one of those fun party-type drinks that when served, you let out that "ughhh" groan. Not because this drink tastes bad, but because of how good it tastes DESPITE the amount of alcohol in it! There isn't much history to this one (that I could find). Basically the name of this mixed drink comes from the bartender who serves it to you. As he slides it over, you'll hear him say, "Adios Mother F'er" or something similar to that. Say Adios to being sober and see ya better days liver.
It's a fun party drink that will be sure to send you on your way to drunkville! Even though it's equal parts vodka as the other types of alcohol, this cocktail deserves a post on VodkaOnly and so here it is.
Ingredients needed to make an Adios:
Vodka
Rum
Tequila
Gin
Blue Curcao Liqueur
sweet sour mix
Sprite/7up soda
ice
highball glass
How to Make an Adios:
Pour 1/2 ounce of vodka, rum, tequila, and gin into a glass or cocktail shaker filled with ice.
If you have a standard shot glass, 1.5 ounces is almost to the rim, so 1/3 full would be about a 1/2 ounce.
Pour 1/2 ounce of blue curacao liqueur into the glass.
This is what gives it that nice trademark blue. Everyone will know what you have in your hand with this!
Pour 2 ounces of sweet and sour mix.
This will help balance out all the different flavors of alcohol you're using in this cocktail.
Shake or mix your cocktail.
You just want all the ingredients to mix together and not separate.
Top of the drink with 2 oz of Sprite/7up. 
Fill the rest of your glass with soda. You got plenty of room for a non-alcoholic liquid in this cocktail.
Go the Extra Mile:
There's not much more you can do to this mixed drink. Playing around with grenadine and mixers of that nature might be fun, but there's already a ton of alcohol in this drink that I doubt you need to add any more.
So that is how you make an Adios (AMF). If you have the ingredients, you can try making these at home, but this is more of out and about drink. This is the one you order for a friend (or yourself) when you're ready to put them over the edge and really get the night started! So go out and enjoy and have one for me.