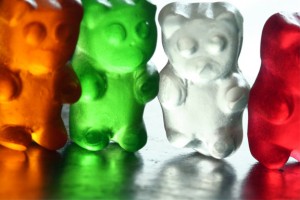 This is actually one of my favorite shooters to take. The White Gummy Bear is relatively new to the bar scene, and there are some people who are still unaware of how good this cocktail really is. It was created sometime in 2009 and I heard that it even was one of the winning recipes in the World Bartender Championship. The concept is simple, make a shooter that is sweet and tasty like the white gummy bear. Skeptical? Well you shouldn't be because the result turns out to be fantastic!
Ingredients needed to make a White Gummy Bear:
Raspberry Vodka
Peach Schnapps
lemon juice
sweet and sour mix
ice
shooter glass
How to make a White Gummy Bear:
1. Pour 1 ounce of vodka into a glass (or shaker cup) filled with ice.
Like always, don't get too hung up on exactly 1 ounce of vodka. Nothing wrong with a little extra 😉
2. Pour 1/2 ounce of Peach Schnapps.
The best way to measure is just using a shot glass. A full shot glass is 1.5 ounces. So if the vodka was filled 2/3, then the Peach Schnapps should be filled a 1/3 of the glass.
3. Add a splash of sweet and sour mix.
The word splash means just that: a little splash of the liquid so that it can be tasted in the drink. It's kinda like a 1/2 second pour. As soon as the sweet and sour starts coming out, that's probably enough.
4. Add a splash of lemon juice.
Just a little bit, like the juice from a slice of lemon. Like before, just enough to get the flavors in the cocktail.
5. Top off with a splash of Sprite/7up.
Just another flavor profile that we want to sneak in there to compliment the lemon and sweet and sour mix.
6. Shake generously and pour the liquid into a shooter glass. 
If you don't have a shaker cup, it's not a big deal. Just mix up the contents as best as you can. This mixed drink is a shooter, so when you pour out into your shooter glass, be sure not to get any ice in there as well.
Going the Extra Mile:
I've heard of pineapple juice also being incorporated into this drink to increase the sweetness of the "White Gummy Bear".
So now you know how to make the coveted White Gummy Bear. This is very popular for both men and women and like. They can also be a little dangerous because of how good they taste! But now you have the ingredients and the recipe to try this out for yourself and your friends. Try making them at home or maybe just order at the bar and see if your local bartender knows how to make them. Either way, this a great social drink to take group shots with!