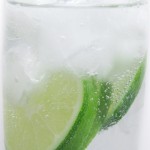 If you have ever gone to order a Vodka Cocktail, you might have heard someone else order a Vodka Press. You're probably wondering, what is a Vodka Press? This actually isn't a very complicated Vodka Mixed Drink, as it's a vodka with soda water (or tonic) and 7up. There is some speculation on how this cocktail got its name. The most reasonable and obvious explanation is that when you're behind a bar, all the soda's are in a gun. So, for a Vodka Press, you would only need to pour the vodka, and then press buttons on the gun for the soda.
Update: Since this article has been published, I have come to learn that the "press" in vodka press actually stands for Presbyterian. Once upon a time, upstanding Presbyterian's wouldn't want to drink alcohol; however, they didn't want to stand out as different either. To combat this social awkwardness, they would order a mixture of soda or tonic with ginger ale. This mixture was obviously not boring water, and thus passed as a mixed drink. This eventually evolved into 7up in later years and finally into a beverage for alcohol drinkers by adding vodka. Looking back, my soda gun analogy is a bit silly…. Yikes!
This drink is great for those in between people who don't want just a vodka soda or vodka tonic, and those who don't want just a vodka seven. Perfect balance of flavors!
How to Make a Vodka Press Cocktail:
Vodka Press Ingredients:
Vodka
soda water (or tonic)
7up (or other lemon-lime soda)
ice
lime wedge
Pour 1.5 ounces of vodka into a collins glass filled with ice.1.5 is the standard amount of a shot of alcohol, so feel free to use a shot glass as your measuring cup.
Pour in about 4 ounces of soda water.It doesn't have to be exact, just however much soda water you want.
Pour in about 4 ounces of 7up (or other lemon-lime soda).The ratio between soda water to 7up is different for each person, but for a basic vodka press, 50/50 is a good starting point.
Serve with a lime wedge to garnish.All there is to it!
Go the extra mile
I like to add a splash of grenadine to mine to make it more of a cherry pomegranate press.
Try using different flavored vodkas to add different flavor profiles to your drink.
So that's the Recipe to make a
Vodka Press
. Looking at other
Vodka Cocktails
, it is essentially a
highball
. This
Vodka Mixed Drink
is a clever way of ordering your vodka soda with a little sweetness, but not overly so then a normal vodka 7up would garner. Try it out and see if you like it!