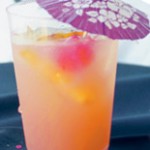 Sex on the Beach is one of the more popular Vodka Cocktails that is listed as an International Bartenders Association Official Cocktail. I think the Sex on the Beach mainly got it's notoriety due the name of the Vodka Mixed Drink.  Being a colorful and playful Vodka Cocktail, it has become more popular to female vodka drinkers. What girl doesn't want to walk up to a bartender and say, "I'd like Sex on the Beach"… I'm sure that's bound to catch the ears of some nearby males!
There are a few different variations of this Vodka Mixed Drink. But here  at Vodka Only, we will show you the classic original version of theSex on the Beach Recipe, with a more current option.
Sex on the Beach Recipe:
Pour 1 ounce of Vodka into a highball glass filled with ice.

Using a regular tall glass works too. 1.5 ounces is a full shot, so feel free to add the full amount if you want a strong drink.

Pour in 1 ounce of Peach Schnapps.

This is a fruity liqueur that will help add to the citrus flavors of this Vodka Cocktail.

*Pour in 4 ounces of Cranberry Juice and Orange Juice.

This is the part that can vary. A lot of bars like to make Sex on the Beach with 4 ounces of Pineapple Juice instead of the Orange Juice. Some bars even use all three juices. I suggest making this drink with each so you know which kind to ask for if you order one out!

Stir or the Cocktail and serve.

Important not to shake the cocktail, since that will dilute and diminish the brightness of the colors in the Vodka Mixed Drink. Garnish with a cherry or orange slice for looks.
Sex on the Beach Ingredients:
Vodka
Peach Schnapps
Orange Juice
Cranberry Juice
*Pineapple Juice
Cherry or Orange Slice
Go the extra mile
If Cranberry Juice isn't readily available, adding Grenadine is sometimes used as an acceptable replacement
Not adding any Orange Juice turns your drink into a Woo Woo
Add half the Vodka, half the Schnapps, and add a little grenadine to make a Sex on the Beach shooter
So that's the Recipe to make a Sex on the Beach Cocktail. When compared to other Vodka Cocktails, I would say it is definitely one of the more popular out there. The Sex on the Beach is one of the great Vodka Mixed Drinks out there that's probably as fun to drink as it is to say. Try it next time your out and let me know how it goes!