The Vodka Martini is one of the premiere Vodka Cocktails you can make or order for this line of alcohol. However, in addition to the classic martini, other Vodka Mixed Drinks, such as the Lemon Drop Martini, exist to speak to peoples sweeter side. The Lemon Drop Martini is a type of cocktail that adds flavor to the classic Vodka Martini. Infusing crisp lemon flavors with sweet and fine sugar, it is no wonder that the Lemon Drop Martini is one of the more popular martini drinks ordered.
It became popular sometime in the 1970's. This was about the time Vodka Martini's were getting popular, so it is only natural that other sweeter options were to follow. Named after the sweet and mildly tart candies, the Lemon Drop Martini is sure to give you that different taste you've been looking for in your late night cocktail of choice.
Lemon Drop Martini Recipe:
Fill your Martini glass with ice while you make the cocktail.

Always important that your martini glass is chilled before you serve the cocktail.

Pour in 1.5 ounces of vodka into a cocktail shaker filled with ice.

Using a regular tall glass works too. 1.5 ounces is a full shot, so feel free to use a shot glass to measure.

Pour in .5 ounces of triple sec, .75 ounces of lemon juice, and 1 teaspoon of superfine sugar.

This is what gives your cocktail that sweet lemon flavor. Estimate the measurements the best you can.

Shake or stir your cocktail.

If you don't have a cocktail shaker, stirring is fine. Just make sure all the sugar is dissolved.

Empty martini glass of ice, rim the glass with lemon juice, and dip in sugar.

Use the superfine sugar so it sticks easier.

Pour cocktail into martini glass and garnish with lemon twist.

If you don't have a lemon twist tool, simply take a small lemon peel, twist it over the top of the cocktail, and drop it in.
Lemon Drop Martini Ingredients:
Vodka
triple sec
fresh lemon juice
superfine sugar (or syrup)
lemon peel
Martini Glass
Cocktail Shaker (or tall glass)
Lemon Drop Martini – Go the extra mile: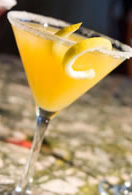 I'm actually at a loss here. If you know something to add to this cocktail to enhance the flavors or to take it in a different direction, please comment below and help me out!
So that's the Recipe to make a Lemon Drop Martini. When compared to other Vodka Cocktails, I would say it is definitely one of the more popular out there. The Lemon Drop Martini is one of the great Vodka Mixed Drinks out there that's both classy and fun. Try it next time your out and let me know how it goes!