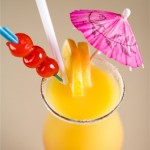 In the world of Vodka Mixed Drinks, you often find yourself hearing interesting named cocktails, such as Harvey Wallbanger. When the name of a Vodka Cocktail is actually the name of a person, you're left asking yourself, who was Harvey Wallbanger? First, the creator of these mixed drinks was 3-time mixologist champion, Donoto 'Duke' Antone. Duke was the bartender at Duke's 'Blackwatch' Bar on Sunset Blvd. in Hollywood and known for his ability to create new and exciting cocktails. He is also the inventor of the White Russian.
As the story goes, he came up with the Harvey Wallbanger and named it after a Manhattan Beach surfer who was a regular patron of Duke's. What made him name it after this surfer I don't know. My guess is the sunset color of the cocktail reminded him of a sunset over looking the ocean. In any case, this drink is a classic and a great way to expand your Vodka Mixed Drinks repertoire.
How to Make a Harvey Wallbanger Cocktail:
Pour 1.5 ounces of vodka into a collins glass filled with ice.

1.5 is the standard amount of a shot of alcohol, so feel free to use that as your measuring cup.

Pour in about 5-8 ounces of orange juice.

It doesn't have to be exact, but you want the orange juice to come up to about an inch from the lip of the cocktail glass.

Pour .5 ounces of Galliano over the top of your drink.

It's about 1/3 of a shot, and you want it to just fall down through your mixed drink. Galliano is sweet and tastes a bit like liquorice.

Serve with an orange slice and a maraschino cherry to garnish.

All there is to it!
Harvey Wallbanger Ingredients:
Vodka
orange juice
Galliano
Orange slice
Maraschino cherry
Go the extra mile
I like to add a splash of soda water to give a little fizz to it.
Try using a orange soda instead of orange juice to give the cocktail a sweeter and fizzier taste.
So that's how you make a Harvey Wallbanger cocktail. Looking at other
Vodka Cocktails
, it is essentially a
Screwdriver
with a Galliano twist. This
Vodka Mixed Drink
is a classic and should no doubt impress a few of your friends if you whip up a batch Harvey Wallbangers for them!