Deaths Door Vodka Review – Initial Impressions:
Deaths Door Vodka is a lesser known spirit that I am hoping will be able to impress. Finding a good vodka to be used in Vodka Cocktails and Vodka Mixed Drinks is more than just going by what you see in ads and on TV. Once you get past all the glitz and glam of the Grey Gooses and Absolut's, all your left with is the same clear liquid that you want to be able to enjoy.
Deaths Door Vodka comes from Washington Island, Wisconsin, a small 22 square mile island once known for its potato farming. Fast forward to 2005, a small group of like-minded people began exploring reinvigorating farming on Washington Island. What started as wheat to use as flour at the Washington Island Hotel, has grown into a select specialty grain for use in Capital Brewery's Island Wheat Ale and all of Death's Door Spirits products.
"Death's Door" takes its name of the body of water between Door County peninsula and Washington Island from which we get organic hard red winter wheat to make our vodka, gin and white whisky. Potowatami and Winnebego tribesmen originally named the waterway.
Deaths Door Vodka Facts

Average Price:$26.99 per 750 ml
Distilled From: Organic Washington Island wheat and organic malted barley from Chilton

Percent Alcohol: 40%

Produced By: Death's Door Spirits

Website: deathsdoor spirits.com
This Deaths Door Vodka Review should be interesting. At the price, I'm not cutting it any slack and am hoping that it's as rich and warming as the people who make it.
Deaths Door Vodka Review -The Shot:
My goal is to record myself take a shot of every vodka brand that I review. Why? Well, nothing describes the pain/joy of taking a shot more than looking at a persons face while he does it! So before I describe the shot, go ahead and press play to observe my immediate reaction.
Deaths Door went down very smooth. The burn was present, but very mild. I couldn't taste any bitter flavors on the back of my tongue or in the back of my throat. Even after the shot
, I didn't taste the usual back draft of alcohol burn. It finished very clean and very smooth.
I usually have one negative thing to say about a vodka shot, but there really wasn't anything bad about Deaths Door Vodka. You'll never find a vodka that doesn't have a little burn to it, but the clean and clear feeling that was left in my mouth was great. I have to hand Deaths Door Vodka, they really created an excellent product.
Shooting Grade: A

Deaths Door Vodka Review -The Mixed Drink:
For this Deaths Door Vodka Review, I chose to make a Vodka Soda with lime. I try to keep my Vodka Mixed Drinks and Vodka Cocktails simple when doing reviews.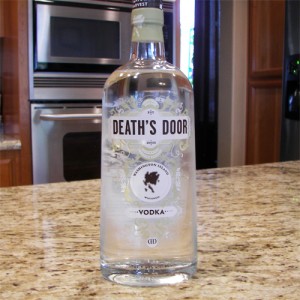 Deaths Door Vodka was really smooth in the shot, so I was anxious to see how it did in a Vodka Mixed Drink. It didn't disappoint, as the drink was really smooth. Deaths Door Vodka complimented the cocktail very well and made it very enjoyable. There's not a lot of flavors going on this drink other than the lime, so the vodka really has to be good in order to pull this off.
Smooth and clean, I couldn't find anything bad about Deaths Door Vodka. I made an identical drink with a mid level vodka and could clearly taste the difference. The mid level carried the bitter flavors as well as the burn. I have to hand to Death s Door Vodka, they really created a solid product.
Mixed Drink Grade: A
Deaths Door Vodka Review – Conclusion:
Deaths Door Vodka is definitely a vodka underdog when it comes to choosing a good brand. Virtually unknown from a marketing standpoint, it has shown that there are still plenty of brands out there just waiting to be given a chance. After all, I pretty much just chose this vodka by chance and am glad I did. Deaths Door Vodka is definitely a diamond in the rough of no-name vodkas. I hope you try it out next time you're looking for a higher end vodka!
Final Grade: A