Review Overview
Clique Vodka's strength is in using it with mixers and showing it off on the table. Smooth cocktails, moderately smooth shots.
Clique Vodka Review – Initial Impressions:
Clique Vodka is a brand new, up and coming vodka that is really trying to hit the party scene hard. Originating on the east coast, Clique Vodka has been creating a real hip and young image for itself, really targeting the 21-35 year old crowd. It's been seen in music videos (such as T-Pain's new song "Hangover") as well as been the prime vodka brand at many star studded events.
The bottle is is simple, clean, and looks almost screen printed. Rather than bolstering it's Latvian roots, it instead goes for that completely modern almost graffiti-style look. As someone within the age group of their demographic, I can definitely say it's caught my eye.
UPDATE: Since doing this review, Clique Vodka has actually gone back to the drawing board and come out with an even better looking bottle. Opting for a unique black, chic bottle, I would say that they have definitely captured the sexiness of vodka. When I now look at the bottle, I think of nightlife, partying, and just having fun! I really like this move to try and stand out.
But what about the vodka itself? Let's dive into a shot of Clique Vodka and see how it is!
Clique Vodka Review -The Shot:
Clique Vodka has a bit of a sweet note upon smell. As you take the shot, you can get a mild sweetness on your palette as well. The shot goes down smooth with minimal burn on the way down. However, once the shot is gone, it doesn't finish as clean as I would like it to. I was left with a mild lingering burn in my mouth, and even felt a bit of a sting in my nostrils.
The shot wasn't unbearable, but it wasn't the smoothest either. Because it is made with natural Latvian spring water, the natural flavors give the vodka a sort of flavor, that may or may not make people happy with it as a straight shooter. I personally don't mind it and find Clique Vodka a solid option for taking shots. For this price range, you could definitely do worse. On grading the shot alone, I'd say it's pretty even keel with other vodkas in its price point. Definitely could compete with the Absolut's of the world.
Clique Vodka Review -The Mixed Drink: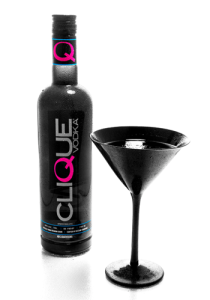 For this Clique Vodka Review, I chose to make a Vodka Cran as well as Vodka Redbull
. I like to keep my Vodka Mixed Drinks and Vodka Cocktails simple when doing reviews.
I found Clique Vodka did much better in a mixed drink. The same flavors that were detected in the straight shot now move to compliment the strong mixers it has been combined with. Cranberry juice is a fairly sharp and tart drink that benefits from this vodkas natural spring water flavors.
I saw just as much benefit with mixing it with the Redbull. Yes, I did use sugar-free redbull (getting close to summer time!) but the result is still the same. This vodka did really well mixing with those strong energy drink flavors we all know, and cut through to really tame the cocktail. Like I've said in the past, vodka is always easier when mixed and it's only natural that it does better in the grading.
Clique Vodka's strength is definitely being an affordable mixer to bring to parties and just let the drinks flow. Feel free to let your hand fall heavy as you pour cocktails with this vodka.
Clique Vodka Review -Final Thoughts:
Clique Vodka is a really exciting vodka that is making a name for itself in the social scene. Being pictured with all sorts of celebs and party crowds, they make a strong case for why you should be bringing Clique to your parties.
The shot was smooth on the way down, but had some lingering flavors/burn that may not make everyone happy. It's real strength is it's ability to bring a cocktail together. Mixing well with both cranberry and Redbull, I would gladly pour it in my party cup.
Bottom Line: Sexy bottle, solid mid tier vodka.
Clique Vodka Facts

Average Price:  $16 per 750 mL
Distilled From: Grain (wheat)
Percent Alcohol: 40%
Produced By: Premier Innovations Group Inc.
Website: cliquevodka.com