Review Overview
Solid Vodka all the way around that can be enjoyed for every occasion.
Blue Label Vodka Review – Initial Impressions:
Blue Label Vodka is an up and coming company looking to push itself as a premium vodka looking to make its way into your vodka drinks and cocktails. This vodka is marketed in a sleek and classic long neck bottle that is actually very similar to Grey Goose. I'm sure they are looking at them as their target competition and they hope their Polish Rye Vodka will come close in notoriety.
If you've read any of my other Vodka Reviews, you might notice a trend of me tending to like vodkas made from rye. Blue Label Vodka  uses a 7 step distillation process to refine their product into a smooth and clean finishing alcohol. I'm intrigued how I'll like this one. If I do like it, maybe I'll have to start giving warnings on my rye preference… In any case, this upscale vodka (packaging is outstanding by the way; it came in a royal blue, sleek box that was lined with blue velvet. Nice touch…) looks to make its mark as a bottle you'll want to order out at a bar or club as well as show off in your home collection.
Blue Label Vodka Review -The Shot:
Blue Label Vodka is actually very smooth. It has a sweet grain aroma that I find similar in scent to other rye vodkas. I tend to like this as opposed to the awful rubbing alcohol smell of some poorer quality vodkas.
The shot was smooth both in the mouth and going down. It actually had an interesting accent in flavor. It is distilled and bottled in Poland and pulls water for the vodka from natural springs in the region. There is a hint of these mineral flavors in the substance and its really quite pleasant.
Overall I really enjoyed shooting this vodka. I'll always have my favorites, but I wouldn't be upset if this was the vodka I was given. In fact, this might make my list of hidden gems to share with my friends. I believe Blue Label to be of real quality and tip my hat to what they've come up with. They are trying to compete with Grey Goose in quality and appeal and I believe they are well on their way.
Blue Label Vodka Review -The Mixed Drink: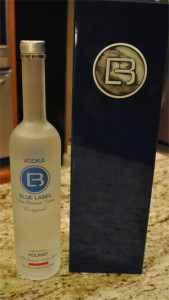 I'm going to keep this one short and sweet: Blue Label Vodka mixed very well. It did what I expected from a quality vodka. After taste is key for this aspect of the cocktail. Any juice or soda can dilute and help curb the burn from alcohol. But something that they can't do is hide the vodka aftertaste left in your mouth once the fluid is down your throat.
The faint sweet flavor of rye mixed with my cranberry juice perfectly. Those almost mineral water-esque flavors from the Polish spring source helps tie the two liquids together and join for a pleasant cocktail. Sometimes when a vodka just doesn't mess up there is warrant enough for praise.
Blue Label Vodka Review -Final Thoughts:
Blue Label Vodka turned out to be a very solid vodka that deserves a chance to shine in your glass. If this vodka truly wishes to compete with the top tier vodkas, however, I would be remiss in not offering some advice in the bottle design: it needs something more. Vodka these days is 30% quality and 70% marketing (hence why Absolut is still around… it's not because of their quality). I think that this vodka is good enough to warrant a boost in the bottle quality.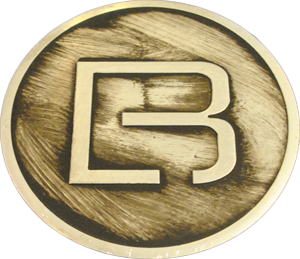 I am then confused when I look at their wonderful box and see an awesome faux brushed metal emblem staring at me. If it were at all possible, I would try to focus on making that rustic/industrial looking logo the focus of my branding. To me, that yells high class and sophistication. A little more than the powder blue simple lettering on the bottle itself. As for Blue Label Vodka, I can definitely see them make a name for themselves as a high quality vodka.
Blue Label Vodka Facts
Average Price: $29 per 750 mL
Distilled From: Rye (Gluten Free), 7 times
Percent Alcohol: 40%
Produced By: APAC Brands
Website: bluelabelvodka.com